Music on MainMusic for the Winter Solstice
Date: Wednesday Dec 14, 2022 - Thursday Dec 15, 2022
Community: Vancouver Downtown
(Category: Performing Arts, Music, Concert/Performance)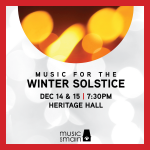 Vancouver, BC – On December 14 & 15, 2022, Music on Main returns to Heritage Hall with Music for the Winter Solstice, a concert that's sure to warm your soul.

Mark your calendars for a not-to-be-missed musical event! This year's concert features Rachel Kiyo Iwaasa (piano) Robyn Jacob (vocals & keyboard), Asitha Tennekoon (tenor), and Jonathan Lo (cello), four extraordinary musicians whose music making will spark joy and warmth that lasts long after the final notes. With Solstice favourites such as Caroline Shaw's Winter Carol and the Wyrd Sisters' Solstice Carole, Music for the Winter Solstice is known to "reliably mix secular warmth with the sacredness of really beautiful sounds" (Stir Vancouver).

Intimate, warm, and welcoming, this annual tradition makes for the perfect holiday gift for someone special, or for a wonderful night spent basking in the candlelit glow and great music. Featured music includes art-pop songs from Only a Visitor's Robyn Jacob , gorgeous melodies from J.S. Bach for solo cello, and Alfredo Santa Ana's mesmerizing A Short Song for the Longest Night of the Year.

Sit back and fill your soul with music that fits the feeling of hope and new beginnings.

Two nights only. This popular holiday event at Main Street's intimate Heritage Hall sells out every year: book your tickets ahead to secure your seats.
Contact Info:
Lindsay Dober, 604-879-9888, Click here to send an email
Website