Saanich Peninsula Arts and Crafts Society Spring Show
Date: Saturday Apr 29, 2023 - Sunday Apr 30, 2023
Community: Sidney
(Category: Artists & Fine Art Artisans, Galleries/ Exhibits/Shows, Arts Community, Events/Festivals, Acrylic painting, Arts Association, Arts & Crafts Show, Art cards, Art prints, Metal art, Mixed Media)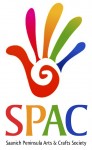 Now in its 70 th year, the Saanich Peninsula Arts and Crafts Society is holding its annual
Spring Show on Sat., April 29, 10 am - 6 pm & Sun. April 30, 10 am-4:30 pm at the Mary
Winspear Centre in Sidney, BC. The Show is recognized Island-wide as a superior exhibition and sale of original paintings, sculpture,
pottery, fibre and textile arts, fine crafts and jewellery. Over 700 pieces of art from hundreds of
artists will be available for sale.
Contact Info:
Kari Fraser , (250)508-4689, Click here to send an email
Website