Accommodation details
The Broughton Archipelago and Johnstone Strait Kayak Tour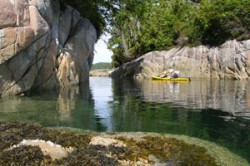 Set in the home of British Columbia's resident orca population, this trip provides the ideal combination of coastal wilderness kayaking and spectacular wildlife viewing. With the Columbia III's onboard accommodation, we can easily travel to the untouched corners of the Broughton Archipelago (usually inaccessible by expedition kayakers) and position ourselves in 'the right place at the right time' for the most unforgettable wildlife encounters.

"Spectacular! Paddling was delightful, food out-of-this-world, ship perfect, and awesome guides. You have a great team."
Jim and Kay - Montana, USA

Departing from Port McNeill late in the afternoon, we spend our first night on the Columbia III at the historic coastal village of Alert Bay. Here we can view the famous graveyard totems and visit the renowned U'mista Cultural Center which sets the tone for what we are about to experience as we venture into the wild beauty of the Broughton Archipelago.
Each day thereafter we continue our journey through the maze of islands steeped in First Nations' history and back-dropped by the snow capped peaks of the Coast Mountains. Scheduling our day around a sea kayak paddle, usually beginning shortly after breakfast, we silently glide through the glacial-fed waters keeping a watchful eye for both marine and terrestrial life. Often the majestic bald eagle soars overhead while curious harbour seals swim close to check us out. If we are lucky, we may spot a black bear foraging on the beach or a group of Pacific white-sided dolphins playing in the waves. And of course we are always on the lookout for the mighty orca. We do our best to find these whales and are rarely stumped. A stop for lunch at an abandoned native village site or on a grassy islet precedes the afternoon paddle, after which we rejoin the mothership, Columbia III. Back on board we refresh ourselves with a hot shower and prepare for a comfortable evening of gourmet food, laughter and relaxation.