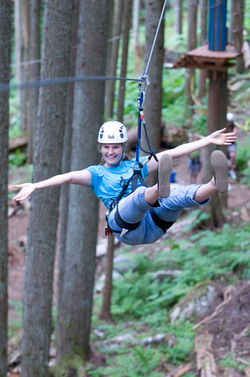 SkyTrek Adventure Park can be found tucked into the impressive old growth cedar trees 32km west of Revelstoke along the Trans-Canada highway, next to The Enchanted Forest.

With four separate exciting attractions, there is something for all ages at SkyTrek!!

The High Ropes Challenge Course offers four progressive courses, each with a collection of obstacles. All together there are 35 different mind and body bending games; including zip-lines, bridges, monkey bars, nets and swinging logs! Participants must be 4'7" or taller to zip, climb, and balance their way through the course.

Concerned you may not want to do all the courses? Not a problem, after we gear you up and take you through safety training you have the choice to do as much or as little as you want.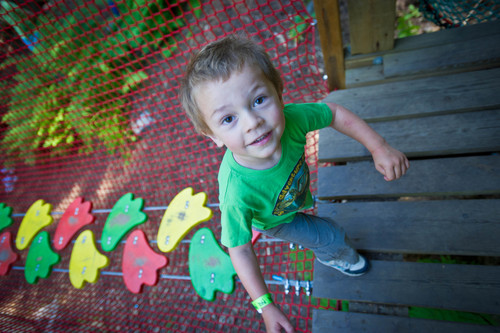 Two of the attractions are designed specifically for children, with the immensely popular Kids Jungle Gym suitable for 2-12 year olds to explore. Children can run and play through the big colorful nets and varied games, including a giant spider's web and a fully netted zip line.

The Kids Tree Adventure is something a little more challenging for kids aged 5 and up, who are fitted with harnesses and helmets and attached to a safety line by a guide to clamber and balance their way around this fantastic adventurous course!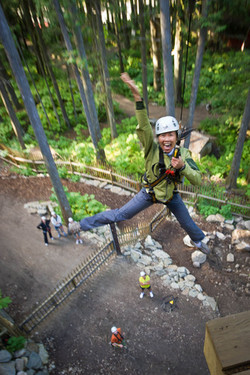 The recently built Adventure Tower is SkyTrek's newest attraction, and has quickly become a big hit with its adrenaline pumping activities.

The 15m (almost 50ft!) high giant pendulum Sky Swing can be done solo or with a friend, where you'll find yourself free falling through the trees in an exhilarating adrenaline rush.

The Skydrop is equally, if not more of a rush than the Sky Swing. After climbing up the 40ft ladder you stand on the Sky Drop platform to step off and do the simulated freefall, perhaps the scariest activity at the Park.

The challenging Log Climb swings and moves as you clamber to the top, just next to the Climbing Wall, with many climbing routes enabling families and friends to climb next to each other, racing to the top!

The Adventure Tower is an ideal option for groups of various ages and heights, as anyone over 6 years old can have a go on this attraction. It is also perfect for those who are limited on time, as you can try all 4 activities in about an hour.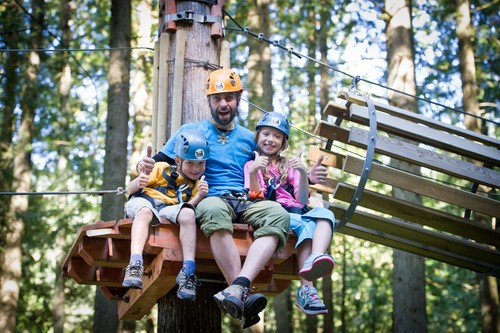 Come along on your own, with friends and family, or book a large work or school group in. Birthday parties are welcome, we have a tent area that can be reserved for your child's birthday party right next to the Jungle Gym where the kids can play all day! SkyTrek Adventure Park is absolutely dedicated to safety, the environment and limitless fun for those that visit!