Friday May 25, 2012 - Sunday May 27, 2012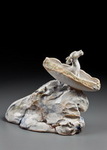 The artists of Fired Up! Contemporary Works in Clay invite you to "Celebrate the Salish Sea" with them at their 28th annual exhibition of ceramics. 10 core Fired Up! members as well as invited guest artists Samantha Dickie and Cindy Gibson will fill the Metchosin Hall with a range of work available from individual artist booths as well as a central gallery display area designed to highlight the Salish Sea theme pieces.
Fired Up! is honored to host the book launch of "Walter Dexter: The Torso Masterworks" by Jonathon Bancroft-Snell during our Friday evening exhibition Opening Reception. Walter and Jonathon will be in attendance.
Free Admission - Wheelchair Accessible
Gala Opening Reception to be held on Friday, May 25 from 6 pm to 9 pm, with sales starting at 6:30.
Exhibition Continues
Saturday, May 26th and Sunday, May 27th
10am until 4pm
Participating Members:
Please click on the member name to get more information.
1
Seika, Kinichi Shigeno


Metchosin Community Hall, 4401 William Head Road, Metchosin, BC

2
Pat Webber Pottery, Pat Webber


Metchosin Community Hall, 4401 William Head Road, Metchosin, BC

3
Cathi Jefferson Pottery, Cathi Jefferson


Metchosin Community Hall, 4401 William Head Road, Metchosin, BC

4
MARSHALL-INMAN GALLERY , Glenys & Basil MARSHALL-INMAN


Metchosin Community Hall, 4401 William Head Road, Metchosin, BC

5
Meira Mathison


Metchosin Community Hall, 4401 William Head Road, Metchosin, BC

6
Marlene Bowman


Metchosin Community Hall, 4401 William Head Road, Metchosin, BC

7
Samantha Dickie


Metchosin Community Hall, 4401 William Head Road, Metchosin, BC

8
Cindy Gibson Ceramics and Belle and Dragon Pottery, Cindy Gibson


Metchosin Community Hall, 4401 William Head Road, Metchosin, BC
Click on Fired Up! Contemporary Works in Clay 2012 - Celebrate the Salish Sea - Booklet to print this tour as a PDF file. (Adobe Acrobat reader is required to print this file)


Contact Info: