Accommodation details
Whale Watching Day Tours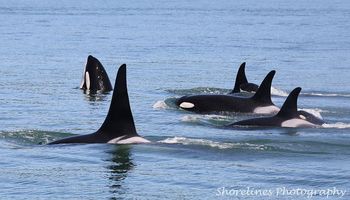 We are proud to lead the industry in sightings with a 98% success rate with this tour! Choose from either our covered or open boat tour options, both with on board washrooms. At a minimum of 3.5 hours, this is the longest and most comprehensive whale & wild life tour available in the industry! Eagle Wing Tours is motivated to provide our guests with more than just a 'look at the whales'. Most of our guests have traveled great distances, and we look forward to exceeding your already high expectations!

Eagle Wing team members are excited to share everything our natural treasure chest has to offer. With every departure we go above and beyond -maximizing guest satisfaction, overall comfort, and delivering the "WOW" factor by making multiple wildlife stops, providing world class interpretation and personalized service wherever possible. At 3.5 hours, this tour is a minimum of 30 minutes longer than the competition, and is a part of Eagle Wing Tour's Whale Guarantee Program.

Included in the Tour:

-Whale Guarantee Program!
-Wildlife viewing
-In board wildlife identification kits
-Binoculars, gloves, hats, sunglasses, sunscreen, blankets
-On board Naturalist/Biologist
-On board washrooms on all of our boats!
-Hydrophone—you'll actually hear the whales!
Rates: Persons 2-150
Time
Please request our current rates by email or phone.
Please refer to the website for more information or call our office @ 1800-708-9488 or 1-250-384-8008. Thank you