Welcome to Ladysmith!

Enroute between the larger Vancouver Island centres of Nanaimo and Victoria, this picturesque town nestles on a steep hill beside the waters of a sheltered harbour. A genuine small-town atmosphere combined with proximity to big city conveniences has made Ladysmith the community of choice for a wide range of people, including a growing number of artists.

Ladysmith is blessed with the charms of a town transported from yesteryear, as yet untouched by the trappings of an often overly-commercialized tourist industry. Many artists, attracted to the quiet and unpretentious lifestyle offered by the town, have set up home studios that are open to the public. Others sell their works through local galleries and cafes, and many participate in Ladysmith's Arts on the the Avenue festival every summer.

Ladysmith is also home to Vancouver Island's only outdoor Amphitheatre — an ambitious millenium project which has resulted in a magnificent harbourside stage that offers a variety of plein air entertainment throughout the spring and summer months.

While it is perhaps still best-known for its annual Festival of Lights at Christmastime, Ladysmith has much to offer visitors throughout the year — from discovering the local arts and culture scene, to exploring local history through a self-guided "Heritage Artifact" walking tour and a visit our Ladysmith & District Historical Society, to hiking the Holland Creek Trail and kayaking at
Transfer Beach.

Ladysmith — it's a great place to spend an afternoon... or a lifetime!
To View all Ladysmith Events visit www.ladysmithcofc.com and click on Events Calendar.

Shown below, a few images of Ladysmith's annual "Arts on the Avenue", a day-long open air event that features the best of local visual and performing arts.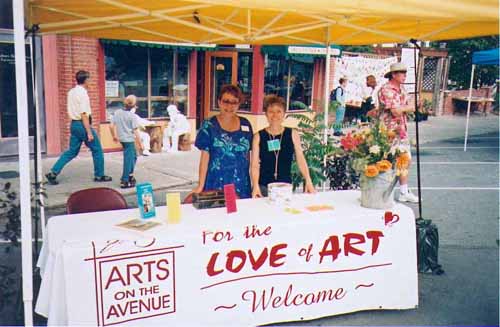 Now in its 15th year "Arts on the Avenue" is building a reputation among residents of Vancouver Island and beyond as a not-to-be-missed arts event on August 25 2013, 10 am - 4 pm ~ First Avenue and Roberts Street ~ Rain or Shine.

Enjoy a day that features original juried art works for sale by local and area artist. From pottery to carving to fine art and photography and jewellery all for Free.

Kids hands on arts area, Live performances.

Below, a collection of paintings by Ladysmith painter K.C. Brock.