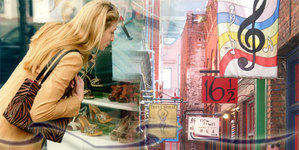 Looking for services close by? Do you want to support local businesses, support the "100 Mile diet" and buy from local farms & vineyards. GoBC connects you with small businesses in your area that will not only offer you great products, but also excellent service.

Find anything from car accessories to organic produce, art and gifts.
Shop Local by category
Arts & Crafts made in BC - Super Artistic BC - Online Shop
Are you interested in taking home a piece of British Columbia's rich culture, a unique souvenir or gift?
Our "Virtual Gallery" is the perfect opportunity to discover the artists and their work. Select from; First Nations carvings, the delicate art of glass making, hand made soap or jewelry, traditional pottery, organic treats, bright inspirational paintings and splendid works created from the elements of the land. Learn about the arts origin as described with every click, discover traditional symbolism and even seminars, which are available in our Education Category.
Whether you would enjoy adding a new conversational décor piece to your home, or you would like to find the perfect gift for someone who you may feel has it all, explore GoBC's Shop, a boundless range of ideas that will delight even the most distinguished individual.
Please click here to visit our
BC Arts & Crafts Online Gallery
.