British Columbia Travel Guide

The unofficial BC Travel & Tourism Guide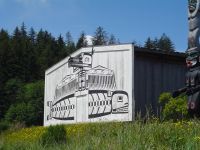 Alert Bay provides the perfect blend of history, modern native culture and eco-tourism.


For thousands of years, it has been an important site of native settlement and today Alert Bay is still a focus of Kwakwaka'wakw art, culture and history. Visit the U'mista Cultural Centre with its fine collection of collection of masks, coppers, and potlatch regalia, but make sure to take in native dance performances in the brightly coloured Long House, or take the boardwalk by the Namgis Burial Grounds and see one of the few places in the world where ancient totems still stand in their original positions. Alert Bay is the site of the tallest totem pole in the world (52 metres).

Alert Bay is the oldest community on northern Vancouver Island, having been visited by Captain Cook in the late 1700's. It evolved into a fishing port and remains an important hub for fishing and other boat traffic.

The settlement is divided between the Namgis First Nations side of town, or Yalis, and the village of Alert Bay, with its abundance of small owner-operated shops, restaurants, services and eco-tourism charter operators. Kayaking, biking, hiking and wildlife viewing are perennial favourites.

Accommodations are limited but varied and include hotels, inns, bed and breakfasts, campgrounds and cabins.

Alert Bay is an excellent place to depart for viewing orcas. Johnston Strait, and the waters adjacent to the ecological reserve known as Robson Byte, is home to the largest concentration of orcas in the world, with as many as 200 summer residents. The extremely cold but crystal clear waters of the region provide exceptional diving and fishing opportunities as well, and are famous for other marine life including porpoise, otters and sea lions.

The island has forested hiking trails of various difficulties and boardwalks for viewing the foreshore and marshlands.

Alert Bay is a 40-minute ferry ride across the Broughton Strait from Port McNeill, a four-hour drive on Highway 19 from Nanaimo, and about 6 hours from Victoria.

The Visitor Centre is open weekdays year-round and on summer weekends.
Alert Bay Accommodations
Alert Bay Things to Do