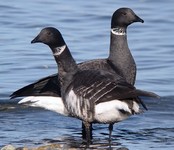 Each spring in Qualicum Beach, Parksville and Nanimo, you can celebrate the wonderful natural diversity in one of the richest ecosystems on earth. A myriad of creatures from microscopic plankton to ...

Situated in Piper Park on a rocky knoll, the Museum setting commands a breathtaking view of Nanaimo's picturesque harbour, the off-shore islands, Georgia Strait and the mainland mountains beyond.

Regional Trails System Recreational walking tops the list of outdoor activities for many people in the RDN. Part of the planning for Regional Parks includes a system of trails to link regional, ...