Grist Mill and Gardens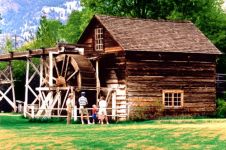 A Living, Working Museum
When Barrington Price built his flour mill in 1877, he probably never imagined it would be operating again in the 21st Century! In his time, it was equipped with some of the best milling equipment available, including a James Jones roller mill and a Bartford & Perkins grinder. It was state-of-the-art technology in the 1880s, and now it's the last example of a pioneer B.C. mill that still has its historic, original machinery and building in place!
It has taken years of painstaking research to re-assemble and restore the operating layout to its 1881 configuration. When the restoration of the mill began in the 1890s, the old machines and parts were found in a jumble on the lower level - with Price's Eureka Grain Cleaner actually holding up the sagging second floor! Careful analysis of every anil hole and wear mark inside the building has enabled the original position of each machine and pulley frame to be identified or calculated. During your visit, you'll find out about this intricate detective work, and what archaeologists have discovered about the history of the mill!
Now a working waterwheel and flume provide power to the inner workings of the mill, and in Price's old store, now a museum of unique hands-on exhibits, you'll be able to operate various devices that demonstrate the principles involved in 19th Century flour milling.
The sunny Similkameen area of Southern British Columbia's interior, close to the Canadian and United States border, is famous for the quality of products from its orchard industry. The Grist Mill has an heirloom apple orchard, a Living Museum of Wheat growing on the upper fields, and some of the most interesting organically-managed heritage gardens in Canada!
Where You'll Find Us
The Grist Mill and its gardens are located beside Keremeos Creek, on Upper Bench Road just one kilometer east off Highway 3A on the north side of Keremeos. This is about a 40-minute drive south of the city of Penticton, 35 minutes west of Osoyoos, or around 4 1/2 hours from Vancouver via highways 1 and 3. Surrounded by the mountains in a near-desert environment, The Grist Mill and Gardens seems like an oasis with its shade trees, colourful flower beds and the waters of the creek flowing through the property.