Fort Steele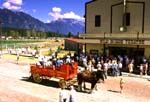 Fort Steele was originally known as "Galbraith's Ferry" during the Kootenay Gold Rush of 1864. It was renamed in 1888 to honour the achievements of Superintendent Samuel Steele of the North West Mounted Police, who peacefully settled tensions between white settlers and the Ktunaxa people. Spurred on by rich mineral discoveries in the area during the 1890's, Fort Steele thrived as the commercial, social and administrative centre of the region.
But in 1898, when the BC Southern Railway bypassed the town in favour of nearby Cranbrook, Fort Steele quickly declined, becoming almost a ghost town.
Today, you'll enjoy dramatic re-enactments of the town's history, as costumed townsfolk present and debate the issues of the day while going about their business. And what a town! Over 60 original or accurately reconstructed buildings show off the upbeat spirit of the 1890's and make it easier for you to imagine you've travelled back in time. The southern Canadian Rockies provide a majestic backdrop, horses graze in the fields and the Kootenay River swings past the town-site. Forget about cars and highways awhile, as you stroll the boardwalks, explore all the buildings, and take a horse-drawn ride along the streets of history!