Stanley Park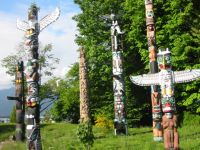 Stanley Park, Vancouver's first park, is an evergreen oasis of 400 hectares (1,000 acres) close to the heart of Vancouver's downtown core. Its natural west coast atmosphere offering a back drop of majestic cedar, hemlock and fir trees embraces visitors and transports them to an environment rich in tranquility.
The park abounds in wildlife and its features appeal to the naturalist, the plant lover or one who would do nothing more than relax in beautiful surroundings. The Lost Lagoon Nature House, operated by the Stanley Park Ecology Society , offers natural history information, guided walking tours and volunteer opportunities. Lost Lagoon is the haven for many varieties of birds including swans, ducks and Canada geese. The rushes and small islands in the lake make a natural nesting place for the various species that live here.
A myriad of recreational facilities are available in Stanley Park including a pitch and putt golf course bordered by the spring-blooming Ted and Mary Greig Rhododendron Garden. At the Park's heart is the formal Rose Garden surrounded by mass perennial plantings looking their very best from April through September.
The Children's Farmyard, Miniature Railway, tennis courts, bathing beaches, a children's water park, a heated ocean-side swimming pool, Theatre Under the Stars, the Vancouver Aquarium and the 5.5 mile perimeter seawall round out the menu of what a great public park offers. Refreshment stands along with four restaurants are strategically placed throughout Stanley Park for your convenience.
Dogs must be leashed at all times and visitors are asked not to feed Park animals or birds in order to keep our wildlife "wild".