Haig-Brown House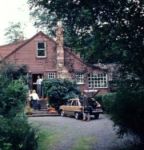 Haig-Brown House was the home of Roderick and Ann Haig-Brown between 1936 and 1975. One of British Columbia's most distinguished conservationists, Roderick was a prolific author and a magistrate in Campbell River, on Vancouver Island. He is best known for his writings on fly fishing, along with 25 books on natural history and conservation, many novels and essays. In addition to all this, he and Ann were devoted to the protection of B.C. rivers, particularly those on which wild salmon are dependent for their survival. Defending the mighty Fraser River from hydroelectric dams was one of their many successful endeavours.
The Haig-Brown property, including almost 20 acres of forest and farmland, was dedicated as a historic site in 1990. Here the story of the Haig-Browns is presented through house tours and preserved through continuing restoration of the buildings.
The Campbell River flows past the property and the Haig-Brown Kingfisher Creek enhancement stream runs near the house. Together with the woodlands and the trails, this is an outstanding setting for learning about natural history, fly-fishing, gardening and many other interests that were shared by the Haig-Browns.
Where You'll Find Us:
Haig-Brown House is just outside the town of Campbell River, on the east coast of Vancouver Island. The house is at 2250 Campbell River Road, a short distance west of the crossing of Highway 19 over the river. The site is about a 3 1/2 hour drive north from Victoria, and about 4 hours from Vancouver including the scenic ferry crossing.
The Haig-Brown House Education Centre is operated by the Haig-Brown Institute.