Paradise Adventure Mini-Golf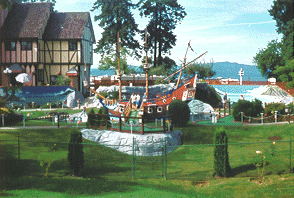 We are located right on Beautiful Parksville Bay which is famous for its acres of safe sandy beaches. Paradise Sea-Side Resort offers 2 world class miniature golf courses.
Enjoy the profusion of colour from over 5000 flowers, cascading waterfalls, fountains and finely crafted fantasy scenes. Marvel at the exquisite 1/4 scale golf course features which include a fully rigged pirate galleon and treasure cave, water mill, lighthouse, Victorian mansion and village church. Paradise Seaside Resort is open from early March to mid October.
GETTING HERE
Watch for the Paradise Castle and The Old Woman's Shoe on the Island Highway at the north end of Parksville.
Contact Paradise Adventure Mini-Golf
Phone: paradise@island.net
Email:
paradise@island.net
Website:
www.vacationsbc.com/ci/paradisegolf.html

Just click on the following links for more information about nearby communities such as