Bowron Lake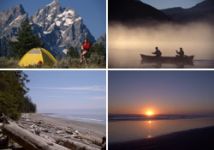 Seen from above, the Bowron Lakes form a nearly perfect square, with one lake linked to another by small land bridges. This unusual feature, combined with the magnificent scenery, has given the area an almost mythical status amongst canoeists. The 116 km long canoe or kayak circuit draws visitors from all over the world. It consists of six major lakes, linked through rivers, creeks and portages. The wilderness canoe trip takes from 6 to 10 days to complete, with the option of a 2-4 day trip in the western lakes. The 121,600 ha park is situated on the western slopes of the Cariboo Mountains, whose magnificent peaks rise over 3000 m around the eastern portions of the park. It is a land of extremes and sublime beauty, where the lakes have many moods, from warm tranquility, to storm-tossed fury. On the way to the park, a visit to the restored 1860's gold rush town of Barkerville is an excellent choice.
The most popular activity in the park is canoeing and kayaking. Powerboats are permitted on Bowron Lake only (not the adjoining lakes in the circuit). A gravel boat ramp is available at the north end, near the lodges. There is excellent trout fishing, especially in June and September. The stream-fed western lakes, as opposed to the glacier fed eastern lakes, are warmer and particularly good for swimming, but there are beautiful beaches throughout the circuit. There are two designated but short hiking trails, both accessed from the portage circuit. Cross country skiing and ice fishing are available.
For those planning on canoeing, reserving a departure time for the canoe circuit is highly recommended since the number of canoes per day is restricted.
This is a wilderness area and home to numerous species of wildlife, including grizzly bear, deer, moose, caribou and mountain goat. The estuary of the Bowron River is noted for its bird watching.
Camping
A drive in campground with 25 sites is located on the north shore of Bowron Lake. Water, fire rings and pit toilets are provided. Basic tenting sites exist through the circuit, with bear-proof food caches, outhouses and fire rings. There are also some cabins, which are meant for cooking or emergency shelter, not as a replacement for camping. There is some firewood available, but visitors must bring a camp stove.
Location and access
Bowron Lake Provincial Park is located about 120 kilometers east of the town of Quesnel. Drive north on Highway 97 through Quesnel, then follow signs onto Highway 26, which leads through Wells to Barkerville. Drive east for another 27 km to the park entrance.