Blanket Creek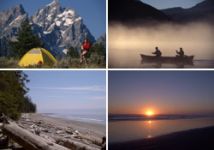 Centered on a historical homestead where Blanket Creek flows into the Columbia River, Blanket Creek Provincial Park is one of four provincial parks on the Arrow Lake Reservoir. Situated on the edge of a wilderness, but on hospital, friendly terrain, the park is highly recommended for family enjoyment and features a warm, man-made swimming lagoon, vestiges of the homestead, as well as hiking and biking trails. It is the best access point to the lovely Sutherland Falls and next to the huge expanse of the Selkirk Mountains. Glacier Nationalpark and Mount Revelstoke Nationalpark are nearby.
Activities
After a 200 metre 'portage', visitors can launch canoes, kayaks and car-top boats and enjoy the shallow waters of the north end of the reservoir. The short hiking route to Sutherland Falls, which falls straight down for 12 meters into a deep pool, takes only 10 minutes, while the longer route, which goes through dense forest and opens up to a very pretty, fjord-type inlet, then past the homestead, takes about 40 minutes. A 10-minute trail winds through the forest to connect the campground with the picnic area and swimming lagoon. The lagoon, which takes fresh water from the reservoir, is about 60 meters in diameter and approximately 2.5 meters deep, is surrounded by sandy beaches and grassy fields, and makes for great swimming. There are picnic tables and an adventure playground. 10 minutes from the main beach is a 'dog off leash' zone. Those interested in fishing may want to travel the short distance to Shelter Bay Provincial Park and launch near the ferry terminal.
Camping
The campground contains 63 vehicle accessible sites, 5 of which are doubles, though not pull-through. Many of the sites are considered large and can accommodate extra vehicles. The campground offers a selection of both sunny sites or shaded sites set in a forest of white pine, cedar and hemlock. There is a one-day-use and picnic area with parking for 120 cars near the reservoir on the north side of the park. During the camping season (May to September) a sani-station is available. There are first-come, first-served sites as well as reservable ones available. The closest store is in Revelstoke, 25 km north on Highway 23.
Location and access
Blanket Creek Provincial Park is located 25 km south of Revelstoke on Highway 23.