Glacier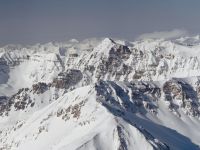 Glacier National Park is part of the Columbia Mountains, the world's only temperate inland rainforest. Together with Mount Revelstoke National Park and Yoho National Park they offer geographically diverse and naturally preserved outdoor experiences all within the borders of BC. The steep, rugged mountains, warm, moist climate and wide variety of plant and animal life are typical of this natural region. The park protects unique stands of old-growth cedar and hemlock and threatened and endangered wildlife species such as the mountain caribou, mountain goat and grizzly bear. The Rogers Pass National Historic Site is located in Glacier National Park, being an important part in the construction and development of the country's first major national transportation route.
The Rogers Pass Discovery Centre is open year-round, except for Christmas Day, and all of the month of November. It is the only frontcountry facility open during the spring and winter, while the campgrounds, picnic areas and trails lie under a two metre blanket of snow. The centre is located near the summit of Rogers Pass and includes a theatre, an exhibit hall with railway models, natural history displays and wildlife specimens, and the Glacier Circle Bookstore.
A park pass is required for all visitors to national parks. This pass is available at the park gates or contact the visitor information centre of Parks Canada.
Hours of operation are:
April 1 June 13th 9:00 a.m. 5:00 p.m.
June 14 September 1st 8:00 a.m. 7:00 p.m.
September 2nd October 31 9:00 a.m. 5:00 p.m.
November 1 November 30 Closed
December 1st March 31 7:00 a.m. 5:00 p.m.