Goat Range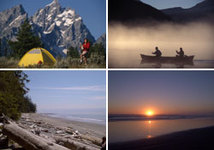 Nestled between large low elevation lakes in the West Kootenay region of southern British Columbia, Goat Range Provincial Park is a dramatic wilderness area. It encompasses a wide range of ecosystems, from lush valley bottoms to open alpine. The 78,947 hectares of the park include not only important interior wet belt old growth and expansive high country, but also a variety of untamed rivers, sparkling lakes and fast flowing creeks.
The park also contains examples of mid to high-elevation wet belt forests, including important stands of old-growth trees such as the Interior Cedar Hemlock forests, with their heavy underbrush and abundance of ferns and shrubs.
This park protects the only natural spawning site of the unique "Gerrard" Rainbow trout. These secluded and wild waters are home to fish of legendary size, which help to sustain the park's other wildlife, including rare white hued grizzly bears. The Goat Range is the only place in BC where grizzlies with this unusual coloration are found. This wilderness area is critical in maintaining the natural habitat for species such as grizzly bear, mountain goat and woodland caribou. Visitors are asked to employ low impact techniques.
Location and access:
Goat Range Provincial Park is situated in the Selkirk Mountains of the Kootenay Region, between Slocan and Kootenay lakes at the south end, and between Arrow Lakes and Duncan Lake at the north end.
The park is reached by driving north from the town of Nelson on Highway 3a along the north shore of Kootenay Lake to Highway 31. Alternatively, it is possible to reach Highway 31 from the west, taking Highway 31a from New Denver. Once on Highway 31 continue north from the tiny town of Kaslo for about 80 km (about midway the road becomes gravel). Highway 31 travels directly through the northern portion of the park.
Hiking:
Goat Range Provincial Park is an excellent place for backcountry hiking. While there are no facilities in the park, there are plenty of beautiful opportunities for backcountry camping. The excellent subalpine flower meadows and vistas into the Selkirk Mountains make the high altitude hiking in the park particularly stunning.
History and cultural heritage:
The area within the park is significant to the Okanagan, Shuswap and Ktunaxa-kinbasket First Nations. The park has an important mining and logging history including an historic townsite and railway station at the south end of Trout Lake.
Conservation:
This wilderness park not only provides habitat for the Gerrard trout, but is an important spawning channel for Kootenay Lake Kokanee in the Meadow Creek watershed. It protects a mix of low, mid and high-elevation old growth forests, extensive alpine meadows and lakes, and numerous rivers and creeks.
Camping:
Wilderness, backcountry walk-in camping is provided, but no facilities are provided. There are no user fees charged at this time. Bring your own drinking water.