Ts'il?os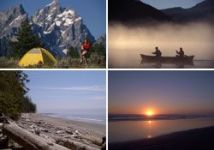 The heart of Ts'yl-os (pronounced "sigh-loss") Provincial Park (233,000 h) is Chilko Lake, one of the most scenic lakes in Canada. Set between the stunning glaciers of the Coast Mountains to the west, and the dry Chilcotin Plateau to the east, the waters of Chilko Lake glow with a surreal blue-green. It is the largest, natural, high-elevation lake in Canada. The park encompasses rugged peaks, waterfalls, rainforests, interior belt forests, and alpine meadows and lakes. The park offers adventurers in British Columbia a wonderful and often challenging wilderness experience. There are also lodges in the area, offering comfortable accommodations.
The lake provides access deep within the park, but caution is needed in navigating its waters, as very strong and unpredictable winds can occur and blow for long periods of time, creating large waves on the icy waters. The shoreline offers very little shelter and limited landing areas.
Recreational opportunities include kayaking and boating (canoeing is not recommended); rock-climbing (remote, and at the south end of the lake), mountain biking on lower-elevation trails, as well as horseback riding. There are designated trails in the park, but the backcountry of Ts'yl-os Provincial Park is recommended for experienced travelers who are equipped for route finding and survival situations. Swimming in the park is possible but the waters are frigid and there are no beaches. A concrete boat launch is available for trailers at Gwa Da Ts'ih, while a natural launch, suitable for car-top boats, is located at Nu Chugh Beniz. Snowshoeing, back-country and cross country skiing are available depending on weather and road conditions. Fishing opportunities include very large rainbow and dolly varden, as well as whitefish and bull trout.
Activities present in the area before the park's creation, and still permitted today, include hunting, trapping, and cattle grazing. The park is managed in cooperation with the Ts'ilhquot'in People of Xeni. To contact the Xeni Gwet'in please find more information on their website: www.xenigwetin.com
Wildlife viewing includes salmon runs, black bear, grizzly bear, moose, mountain goat, and cougar. Due to bear hazards, Gwa Da Ts'ih campground may be closed during salmon spawning season (mid-August to mid-September).
Camping
There are two campsites: Nu Chugh Beniz, which has 16 campsites, one of which is a large pull through and three double. There are also 4 tent pads at this campground; and Gwa Da Ts'ih where there are 8 single vehicle sites. There are pit toilets located at the campgrounds and a day-use/picnic area at Nu Chugh Beniz campground. Both campgrounds have cold-water pumps for potable water. Reservations are not possible and the campsites can be popular in summer and fill up.
Location and access
The nearest communities to the park are Nemiah Valley, Hanceville, Tatla Lake and Williams Lake. There are two routes into the park. Both take about 5 hours from Williams Lake, depending on road conditions. Each route terminates at a campground.
Gwa Da Ts'ih Campground: situated at the north end of Chilko Lake, take Highway 20 to Tatla Lake, then drive 63 km on a gravel road from Tatla Lake to the Gwa Da Ts'ih campground. Follow signs for Chilko Lake.
Nu Chugh Beniz Campground: located on the east side of Chilko Lake, it is accessed via Highway 20 to Hanceville; travel 121 km on gravel from Hanceville via Konni Lake and the Nemiah Valley. Supplies and services are available near the campground at the Nemiah Valley Tl'ebayi Community Centre.