British Columbia Travel Guide

The unofficial BC Travel & Tourism Guide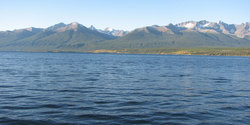 Plunging deep into the highest peaks in British Columbia's Coast Range to the west, and extending into the Chilcotin Plateau to the northeast, Chilko Lake is rare not only for its position, but also its large size and beauty.


Fed by glaciers and numerous streams, the high altitude lake glows with a brilliant blue-green. Fierce winds are a central factor in the region's climate and descend from the glaciated peaks as they rush inland, creating huge waves over the icy waters.

The lake is situated at 1170 m and reaches depths of 365 m (1200 feet), making it the second deepest lake in the Cordillera of western North America (after Crater Lake in Oregon). It is 80 km in length and covers 20,032 h. Chinook and Sockeye Salmon return to the lake each year via a long migration up the Fraser River to the Chilcotin and into the Chilko. The Chilko River, famous for its beautiful colour, is extremely swift, dropping 20 meters per kilometer. The lake is not stocked, but has Rainbow trout to 10 kg, Dolly Varden to 11 kg, as well as Bull trout and White Fish, all of which rely on large insect populations and salmon fry.

Due to high winds and cold water, boating on the lake should be undertaken with caution. There is a concrete boat ramp at the north end, and another more difficult access half way up the lake. The shoreline offers few safe anchorages. Kayaking is popular on the lake, but canoeing is not recommended.

There are two hiking trails that begin at the lake: for the well prepared, there is a five day loop to Yohetta Valley, Spectrum Pass, and Tchaikazan Valley; and a more moderate hike on the Tullin Mountain Trail (12 km return) which starts at the Gwa Da Ts'ih campground. There are climbing opportunities at the south end. The lake is mostly situated within Tsylos (pronounced "sigh-loss") Provincial Park, which was created to help preserve the lakes, streams and lands of this extraordinary area. There are a couple of lodges and two campgrounds in the area. The slow growing resident fish populations have in recent years been subject to heavy pressure from angling. Anyone fishing the lake should help conserve the extraordinary resources, and practice proper, low mortality catch and release.

Location and access
There are two main vehicle access routes into the lake. Both routes take 4 - 6 hours from Williams Lake, though travel times vary considerably depending on weather conditions. Air transport is also possible. The nearest communities to the park are Nemaiah Valley, Tatla Lake, Hanceville and Williams Lake.
Chilko Lake Accommodations
Chilko Lake Things to Do