British Columbia Travel Guide

The unofficial BC Travel & Tourism Guide

Whiteswan Lake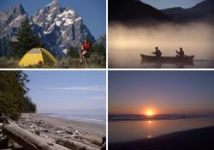 Located within the Kootenay Ranges, 22 km north of Canal Flats, Whiteswan Lake Provincial Park boasts two mountain lakes and a natural hot springs. A seasonal hunting camp of the native people dating back as far as 5000 years the hot mineral waters of Lussier Hot Springs, well established facilities and the abundant wildlife viewing opportunities (mountain goat, bighorn sheep, moose, elk, grizzly and black bears)make this park a great setting for a camping holiday. 115 campsites are located at 5 campgrounds.
Park size: 1994 hectares
Contact Whiteswan Lake
Contact Name: Kootenay Park Services Ltd.
Phone: 1-250-422-3003
Email:
ekparks@telus.net
Website:
wlapwww.gov.bc.ca/bcparks/explore/parkpgs/whiteswa.htm

Just click on the following links for more information about nearby communities such as