Atlin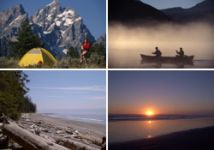 Situated in the northern reaches of the province, it has been said that the beauty of Atlin can leave people speechless. The park occupies the southern third of Atlin Lake, the largest natural lake in the British Columbia. The remoteness of the park, combined with the varied topography and large size (301,140 hectares), makes Atlin a supreme choice for hikers and nature lovers to find solitude. It is possible to go for days and weeks without contact with other humans.
Shimmering glaciers are a prominent feature of the park, including the Llewellyn Glacier, which is considered the source of the Yukon River. The topography is a combination of plateau, and transitional highlands between the plateau and the rugged Boundary Ranges of the Coast Mountains. Severe winters yield to long warm days in summer. Wildlife includes grizzly, black bear, mountain goat, caribou, moose, Stone sheep, and wolf. Hoary marmots, Arctic ground squirrels, pikas, beavers, otters, as well as numerous bird species, find protection within the park. The lake is rich in trout, arctic grayling, Dolly Varden and two species of whitefish. The park is situated in an area steeped in the history of 19th century gold mining, and was an important offshoot of the famous Klondike Goldrush. At one time, over 5000 prospectors flooded the town of Atlin.
Recreation includes boating, canoeing, kayaking and fishing. Backcountry hiking is popular and there are two maintained trail: one trail begins at the head of Llewellyn Inlet, which leads to a hiking route taking you to Llewellyn Glacier. The second trail is located at Sloko Inlet; this two kilometre trail leads to Sloko Lake. A vestige of the route cut for the 1901 telegraph line, (which linked Quesnel and Dawson City to Atlin) remains, but parts are overgrown. For horse travel, a letter of permission is required from the District Office in Smithers. Mountaineering is possible for the expert and well prepared. Hunting is allowed under strict guidelines. Snowmobiles and ATV are not permitted except under special license.
Camping
Areas near safe anchorages along Atlin Lake are the most common camping spots. There are no developed sites and no support from Parks personnel. Carrying a stove is preferable to relying on firewood. Backcountry camping is an alternative to those sites on the lakeshore.
Location and access
There are no roads into the park. Visitors rely on boat, float plane or helicopter for access. Chartered operators provide access from the town of Atlin, located along Highway #7 from Jake's Corner on the Alaska Highway.