Muncho Lake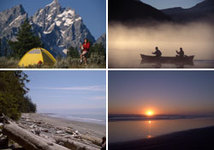 Some of the most outstanding views in northern British Columbia can be experienced only a few minutes from the highway in Muncho Lake Provincial Park. Visitors can expect spectacular geological formations, bountiful wildlife and brilliantly colored wildflowers. Muncho Lake displays a perpetually blue hue, the result of copper oxides leached from the bedrock. The 90-km drive through Muncho Lake Provincial Park has a reputation of being the most scenic part of the Alaska Highway.
Location:
Muncho Lake Provincial Park is located at the 650 kilometres mark of the Alaska Highway, 250 km west of Fort Nelson.
Recreation:
Interpretive displays provide details on wildlife, geological features and indicate hiking trails. There is easy access to the higher regions of the Rocky Mountains.
The Terminal Range is on the west side of the lake, while the Sentinel Range, rising sharply above the campgrounds to the east, is near the northern limit of the Rockies. One of the best ways to appreciate either is by boat. The lake is home to lake trout, arctic grayling, bull trout and whitefish.
History:
It is believed that the Kaska Athapaskan Indians camped regularly in the Muncho Lake area. European discovery of the area did not occur until the late 1800s, when trappers, traders and explorers passed through the area. Populations were able to expand after construction of the Alaska Highway.
Wildlife:
Bountiful wildlife can be seen in this park. Keep an eye open for moose or caribou, which frequent the many swamps within the park. There is a good chance you will see Stone Sheep along the highway.
Camping:
There are two separate vehicle accessed campgrounds situated on the shores of Muncho Lake. Strawberry Flats Campground (15 vehicle/tent sites) is located at the south end of the lake, while MacDonald Campground (15 vehicle/tent sites) sits roughly at the midpoint of the 7.5-mile-long (12-km) lake. There are small beaches at each location. The park is open from May to September and fees are collected during this time. Hwy 97 follows the east side of Muncho Lake and passes beside both campgrounds. Campsites are on a first-come, first-served basis.
Wilderness campsites are located along the west shore of Muncho Lake for those willing to make the crossing by boat.
Boat access:
Car-top boats can be launched at Strawberry Flats and MacDonald campsites. Muncho Lake Tours operates daily trips along the twelve kilometres of jade-colored water.
Safety:
Caution should be used when crossing the alluvial fans as rains high up in the mountains may cause flooding of these areas with little or no warning.