British Columbia Travel Guide

The unofficial BC Travel & Tourism Guide

Rathtrevor Beach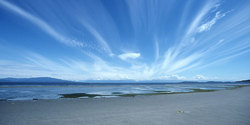 Photo: Peter Reid
Located 3km south of Parksville on Vancouver Island this park is a very popular spot for family vacations. Reservations are required! Miles of sandy beaches, towering firs, nature trails and warm ocean waters make Rathtrevor a great place to spend the day or your entire vacation.
The campground is large and well kept. There are camping facilities for large groups and an extensive picnic area on the beach.
Park size: 347 hectares
Contact Rathtrevor Beach
Phone: (250) 954-4600
Email:
parkinfo@prkvctoria.elp.gov.bc.ca.
Website:
www.env.gov.bc.ca/bcparks/explore/parkpgs/rathtrev.html

Just click on the following links for more information about nearby communities such as