Spatsizi Plateau Wilderness and Stikine River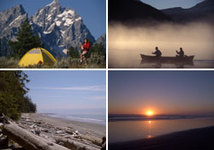 Located in the north western part of British Columbia, Spatsizi Plateau Provincial Wilderness Park spreads across two broad physiographic regions: Spatsizi Plateau and the Skeena Mountains. With 696,160 hectares, Spatsizi Plateau Wilderness Park is one of Canada's largest and most significant parks. Outstanding scenery, true wilderness atmosphere, and varied terrain make this park an excellent place for many recreational opportunities such as hiking, photography, nature study and wildlife viewing.
Stikine River Provincial Park, 217,000 hectares in area, forms a corridor on both sides of the Stikine River from its exit point on the northeast border of Spatsizi Plateau Wilderness Park, and westward along the northern boundary of the park to an area of unparalleled scenic beauty.
History:
Established in 1975, the Park was named for the region of the province that it occupies, Spatsizi, meaning "red goat" in the Tahltan First Nation language. It was a name given to the mountain goats of the area because of their habit of rolling in the iron oxide-coloured dust, which changed their normally white coats to red.
Spatsizi was the historical hunting ground of the Tahltan First Nation. Prior to 1926 – when the Hyland brothers established a post on the Spatsizi River to trade with native fur trappers – the area was seldom visited by outsiders. It wasn't until 1948 that Tommy Walker set up permanent hunting and fishing camps at Hyland Post and Coldfish Lake, hiring local Caribou Hide Indians as guides. It was largely due to the efforts of Walker that the park and Gladys Lake Ecological Reserve were created in 1975.
Conservation:
This park spreads across two broad physiographic regions, the Spatsizi Plateau and the Skeena Mountains. The plateau ranges in elevation from 1,600 to 2,000 meters, and extends in a broad curve broken by wide "u" shaped valleys. The Eaglenest Range of the Skeena Mountains dominates the northwest. Its highest peak, Mt. Will (2,500 metres) towers above Gladys Lake.
A portion of the central part of the park just south of Coldfish Lake has been designated as the Gladys Lake Ecological Reserve. The reserve was created for the study of stone sheep and mountain goats in an undisturbed habitat. Persons wishing to view these animals may hike the reserve.
Wildlife:
Grizzly and black bears, wolverines, beaver, hoary marmot, and arctic ground squirrels are fairly abundant and more than 140 species of birds including gyrfalcons, smith's longspurs and American golden plovers have been recorded within the park boundaries. The light snow depths in the rain-shadow of the Eaglenest Range, create one of the most important habitats for woodland caribou in British Columbia. Many flooded areas and oxbow ponds of the Spatsizi River Valley provide aquatic vegetation for summer forage as well as willow flats for winter browse for moose.
Camping:
There are 6 cabins located at Cold Fish Lake Camp within Spatsizi Plateau Wilderness Provincial Park. All cabins are on a first-come, first-serve basis
There are also several rustic campsites scattered throughout the park. These sites may or may not contain: a fire ring, a pit toilet, tenting areas, food cache. Stikine/Spatsizi Rivers Canoe Route: Tuaton Lake, Fountain Rapids, Chapea Rapids, Beggerlay Canyon, Spatsizi River Access Trail (two sites available: one located at trailhead, other located at the end of the trail by river). Eaglenest Creek Trail: Ram Creek and MacDonald Camp. Wilderness camping is permitted but no facilities are provided.
Canoeing:
Backcountry canoeing draws most visitors to the park. There are two popular river trips:
The first one is for experienced backcountry paddlers only. It begins with a floatplane flight to Tuaton Lake, at the headwaters of the Stikine River in the heart of the park. It follows the Upper Stikine River from Tuaton or Laslui Lake (both accessible by float plane) to the pullout at the Highway no. 37 bridge.
The second route starts in the park, and is accessible via a 5 km portage from the BC Rail grade to the Spatsizi River. The canoe route is the Spatsizi River from its confluence with Didene and Kluayetz Creeks to the Stikine River and then down the Stikine to the pullout at the Highway no. 37 bridge.
Plan on 7 to 10 days for canoeing either the Stikine (Tuaton to Hwy 37 bridge) or the Spatsizi/Stikine routes. Expect some rough water and rapids, especially at higher water levels.
Dozens of river-rafting companies offer treks through this wilderness paradise.
Horseback-riding:
A Letter of Permission is required for individuals or groups who wish to use horses within Spatsizi Plateau Wilderness Provincial Park. To obtain a Letter of Permission, please contact the BC Parks Stikine Area Office at (250) 771-4591
Hunting:
Hunting is permitted within Spatsizi Plateau Wilderness Provincial Park. Big game hunting is authorized under the Limited Entry Hunting system. Please note that there is a no shooting area within 1 km of Cold Fish Lake Camp. Hunting is not permitted within Gladys Lake Ecological Reserve.
Location:
The Park is east of the Village of Iskut, off Highway no. 37, and approximately 500 kilometres north of Smithers.
Access:
The Ealue Lake Road and Klappan Rail Grade are open to public access. During the spring of 2007, several areas were washed out but repairs were undertaken.
Air access into Spatsizi Plateau Wilderness Provincial Park is restricted to authorized air charter companies.
Note:
Fires should be used sparingly. Visitors are encouraged to conserve wood.