Cypress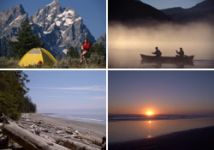 Cypress Provincial Park
The towering North Shore Mountains which form a backdrop to the bustling city of Vancouver have beckoned outdoor recreationists for many years. Until the opening of the Lions Gate Bridge in 1939, a fleet of ferries transported hikers and skiers across Burrard Inlet on the first leg of their journey to Hollyburn Ridge, which is now part of Cypress Provincial Park.
Bounded on the west by Howe Sound, on the north and east by the ridgetops of Mount Strachan and Hollyburn Mountain and to the south by West Vancouver, Cypress sits like a ship's crownest high above Vancouver.
Park Size: Originally encompassing just over 2100 hectares, the park now covers nearly 3,000 hectares, including the Howe Sound Crest Trail.
Contact Cypress
Email:
LMDinfo@Victoria1.gov.bc.ca
Website:
www.env.gov.bc.ca/bcparks/explore/parkpgs/cypress.html

Just click on the following links for more information about nearby communities such as