Garibaldi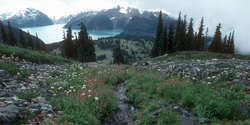 Photo: Peter Reid
Just 60 km from the Vancouver metropolis, travelers on Highway 99, commonly called the 'Sea to Sky', are greeted by the stunning sight of Mount Garibaldi rising in year round snow capped splendor from Howe Sound to 2678 metres. Early explorers were equally impressed by the sight of this mountain and it became obvious that the magnificent area should be protected in a park. The mountain was named after the great 19th century Italian patriot and soldier, Giuseppe Garibaldi. Established in 1927, Garibaldi Provincial Park has been providing outdoor recreation, inspiration and excitement for generations. The 195,000 hectare park is located deep in the Coast Range and has over 90 km of hiking trails.
There are 5 main access points, between 2 and 16 km from the highway. The first stop, just past Squamish, is Diamond Head. The gentle approach rises through thick forests before opening into sub-alpine terrain, and then onwards, across snowfields and into precipitous glaciated terrain and alpine rock. There are dedicated campsites and two huts available in the park, including the Elfin Lakes Shelter (charge of $10 per night). All are on a first come first serve basis.
Further north on the highway, is the Garibaldi Lake access. Its iridescent waters reflect the surrounding peaks, snowfields and glaciers. After a vigorous hike, campers at the lake can marvel at the serene beauty and gaze into the star-filled summer sky. Further on, across alpine meadows, the trail accesses a volcanic spire, aptly named Black Tusk. Hikers in the Coast Range, or skiers on Whistler Mountain, can see its distinctive shear black cliffs from great distances.
Other routes lead to Cheakamus Lake, Singing Pass and Wedgemount Lake, the latter's brilliant green water set high up the mountain at the foot of a glacier and surrounded by steep cliffs.
The geology of the area is fascinating, with numerous volcanic features from its ancient past, including Table Mountain, a vestige of a volcano that exploded underneath an impenetrable blanket of ice, and the Barrier, a wall of crumbling volcanic debris that holds the water of Cheakamus Lake from tumbling into the valley floor.
Wildlife sightings include deer, black bear, eagles, cougar and numerous species of birds and small mammals.
The park's immense beauty draws numerous visitors, but despite its relative proximity to Vancouver and a few towns, anyone entering the backcountry of Garibaldi should be self-sufficient and prepared for severe conditions, long, often steep hikes, and encounters with wildlife. Deep snows stay into early summer, and even in July and August, the rivers and lakes are ice cold, and snowfall is possible at any time of year. Appropriate clothing and footwear are essential and hikers should be prepared for possible, unanticipated overnight stays. Care should be taken to stay on the marked trails to avoid damaging the fragile soils and meadows. Dogs are not permitted in the park.