Indian Arm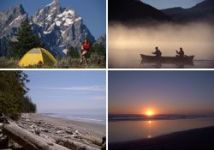 Indian Arm Provincial Park is a conservation park that protects the shores of Indian Arm, an 18 km fjord that extends north from Burrard Inlet in Vancouver. The park area was once heavily glaciated, leaving behind a spectacular landscape featuring rugged, forested mountains, several alpine lakes, and numerous creeks and waterfalls, including the 50-meter high Granite Falls.
The park offers a variety of recreation activities. Indian Arm is ideal for motor boating, kayaking, canoeing, and scuba diving. Indian River and the lower reaches of some creeks are perfect for recreational fishing. The old-growth forested mountains provide opportunities for hiking, wildlife viewing and nature appreciation, while the flat beach areas along the shorelines of Bishop Creek provide opportunities for rustic camping, picnicking and other day-use activities. Marine access camping is also available on the south side of Granite Falls.
Adjacent to Mount Seymour Provincial Park in North Vancouver, the park is situated on the eastern and western shorelines of the upper portion of Indian Arm. While the park is primarily accessed by water, there is logging road access from Squamish. Please contact the Ministry of Forests Squamish District Office for a detailed access map.
Park Size: 6,821 hectares