Cowichan River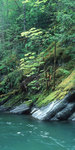 Photo: Peter Reid
Cowichan River Provincial Park protects 1,414 hectares of significant stretches of the Cowichan River on Vancouver Island, British Columbia. The treasured river flows out of Cowichan Lake for 47 kilometres and empties into Cowichan Bay. Unlike many other streams, the Cowichan has a fine population of insects, crustaceans and annelids. These in turn form a food base for a thriving population of rainbow, cutthroat and brown trout. It provides water for commercial and domestic use, white water kayaking, tubing, fishing and superb summertime swimming. The Cowichan was recently designated as a Provincial Heritage River and has been internationally renowned for its wild salmon and steelhead fishery. Cowichan, derived from the Coast Salish word 'Khowutzun' means "land warmed by the sun". The estuary is a wintering area for thousands of waterfowl.
Points of interest:
Stoltz Pool day-use area and campsite: One of the more popular sites, it includes a boat launch, riverside trail, picnic area with tables, parking, and pit toilets. There are 39 drive-in and 4 walk-in sites at the Stoltz Pool campsite, situated in a stand of second-growth Douglas Fir. All sites are well spaced with easy access to the river. Campsite reservations are accepted; first-come, first-served sites are also available. Open year round; a winter camping fee is in place.
Skutz Falls day-use area and campsite: day-use area: A great place to picnic, watch surging white water, salmon runs and fish ladders. It forms one end of the scenic Cowichan River Footpath. There are beautiful views, good parking, pit toilets, and an information shelter. Expert kayakers run the falls and other put in just below them. There are 33 well-spaced drive-in sites in a forest setting, all with easy access to the river. They are available on a first-come, first-served basis. Closed during the winter.
Marie Canyon day-use area: A popular stop for picnicking, taking in canyon views and a short but steep hike to the bottom of the canyon. Picnic area includes parking, pit toilets and an information shelter. Located off of Hwy #18 on the way to Lake Cowichan onto Skutz Falls Road.
66-Mile Trestle day-use area: centred around the 66-Mile Trestle on the Trans-Canada Trail, it includes picnic tables, some parking, pit toilets and an information shelter. Visitors won't want to miss the sights from the restored 66-Mile and Holt Creek Trestles on the Trans-Canada Trail, which offer spectacular river views and the opportunity to imagine back to a time when log-laden train-cars would thunder along these tracks high above the Cowichan River. Recreation opportunities for cyclists, hikers and horseback riders.
Cowichan River Footpath: Well-maintained 20 kilometre foot trail takes hikers by deep pools, gravel bars, rock bluffs, canyons, forests and bridges. It has picnic areas and swimming holes. Trailheads are at Skutz Falls, and Glenora.
Access:
There are three main access points to this Cowichan River Provincial Park:
Skutz Falls Road/West Access: Located off Highway 18, Skutz Falls Road provides access to Skutz Falls Campground, Skutz Falls Day-Use area, Horseshoe Bend Group Campsite, Marie Canyon Day-Use area and the Skutz Falls Trailhead off the Cowichan River Trail. Follow signs from Skutz Falls Road via Cowichan Lake Road and Mayo Road to Riverbottom Road.
Highway 18 Connector/Middle Access: Located off Highway 18, the Highway 18 Connector provides access to the Stoltz Pool Campground, Group Campsite and Day-Use areas. Follow signs to Riverbottom Road.
Robertson Road/South East Access: Located on Robertson Road in the Glenora area south of Duncan. To access this point proceed west on Glenora Road, turn right onto Vaux Road and continue down Vaux Road to Robertson Road.