Englishman River Falls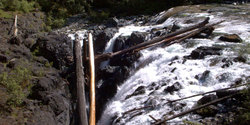 Englishman River Falls Provincial Park is situated along the pristine Englishman River. The park features two beautiful waterfalls cascading along the descending riverbed and a lush old growth forest of Douglas-fir, cedar, hemlock and maple. This 97 hectare park contains several trails that meander through the old-growth forest and along the river. The main trail crosses the river in two places and the view from these bridges is spectacular, as the river plunges down the narrow rock canyon toward quieter waters below the second falls. The lower falls end in a deep crystal-clear pool, an ideal swimming hole when river levels are low.
Englishman River Falls Provincial Park is located 13 km southwest of Parksville: on Errington Road off Highway 4 towards Port Alberni.
Park Size: 97 hectares
Contact Englishman River Falls
Website:
www.env.gov.bc.ca/bcparks/explore/parkpgs/englishm.html

Just click on the following links for more information about nearby communities such as