Sproat Lake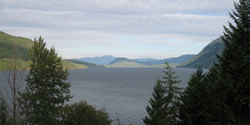 Sproat Lake Provincial Park is located on the north shore of Sproat Lake and is a favoured location for swimming, fishing, water skiing and, when the wind is up, wind surfing. Water-oriented recreation seekers love this warm and sunny lake. Culture enthusiasts may enjoy a pleasant walk to view a panel of prehistoric petroglyphs - one of the finest in British Columbia. Little is known about this petroglyph, but it is not hard to imagine this rock carving as depicting some mystical ancient monsters of the lake. During the forest fire season visitors will see the gigantic Martin Mars water bombers, which use the lake for their runway as they thunder off to extinguish wild fires. These are the largest water bombers in the world; they are capable of scooping up to 27 tons of water off the lake surface at one time.
Located on the north shore of Sproat Lake, 13 km Northwest of Port Alberni on Hwy 4.
Park Size: 39 hectares
Contact Sproat Lake
Contact Name: R.L.C. Enterprize Ltd.
Phone: (250) 474-1336
Email:
office@rlcparks.ca
Website:
www.env.gov.bc.ca/bcparks/explore/parkpgs/sproat.html

Just click on the following links for more information about nearby communities such as