British Columbia Travel Guide

The unofficial BC Travel & Tourism Guide

Taylor Arm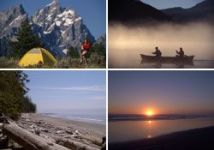 Taylor Arm Provincial Park provides group camping close to the shores of Sproat Lake. The three group campsites are located across the highway from the lake. A trail to the lake and beach leads through a highway underpass. The park is pleasantly wooded with an undeveloped beach.
Travel 25 km west of Port Alberni on Highway 4.
Park Size: 791 hectares
Contact Taylor Arm
Contact Name: R.L.C. Enterprize Ltd.
Phone: (250) 474-1336
Email:
office@rlcparks.ca
Website:
www.env.gov.bc.ca/bcparks/explore/parkpgs/taylr_am/

Just click on the following links for more information about nearby communities such as