British Columbia Travel Guide

The unofficial BC Travel & Tourism Guide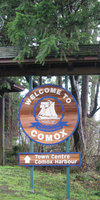 Apart of one of British Columbia's most recreationally diverse communities, the sea, the sky and the mountains are all there to explore within only twenty minutes of each other. From lift off (plane), push off (from the pier), or an ariel stunt on skis there isn't much time visitors spend just wandering around. Comox resounds with community activity, fishing, golfing, historical walks, boutique shops, dining, skiing and the CFB Comox Air Force base and it happens to house the safety of a large hospital and the coastal Search and Rescue units.


The surrounding rural "burbs" and farmland are ever changing with the mild four season climate to entertain the eye with incredible colours backed by the white glacier mountain tops and glimmering blue oceans off its shore side.

Population: 11,600

Highlights:
Comox Marina
The Courtenay & District Museum & Paleontology Centre
Scuba Diving
Fanny Bay
Buckley Bay
Union Bay
Royston
Saratoga Beach
Nearby Islands of Denman and Hornby Island
The Cumberland Museum & Archives, history of local coal mining and artifacts from the largest Chinese settlement north of San Francisco .
Comox Air Force Museum
Historic Filberg Lodge and the Tla wa sints guy a las Totem Pole.
Saltwater Fishing and Lake or River Flyfishing
Mount Washington Ski Area

History:
Along the Puntledge River, the area of Comox has long been home to the Comox Salish nation, the Kwakwala Tribe for centuries following the ice age. Clearly apart of the community today and made reference to with artifacts and more in the Comox Museum.

Climate:
Summer average 18 degrees Celsius
Winter average 2 degrees Celsius


For more information please visit www.discovercomoxvalley.com
Comox Accommodations
Comox Things to Do