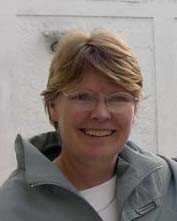 West coast artist Heather E. Anderson has dedicated her talents to interpreting the world around her. She loves to take the ordinary and create vibrant paintings rich in bold colours.

The artist's current body of work portrays the urban life of established neighbourhoods in a fond and whimsical way. The interplay of light and shadow portrayed in colourful geometric shapes is her fascination.

Heather is accomplished in oils, acrylics and watercolours which she began exhibiting in 1995. Her work is held in private collections in Canada, USA, Brazil and Japan.

Heather studied fine arts at Langara College of Vancouver in 1976. She studied art history in Europe to which she has returned several times, completing her formal creative studies in Fashion Design at Ryerson University, Toronto in 1980. Born in 1957 at Vancouver Canada, Heather is married and has three children.

Front Porch
For Sale - Inquire
Framed
16.0 by 16.0 in.
Acrylic on Canvas