British Columbia Travel Guide

The unofficial BC Travel & Tourism Guide

Cranbrook is not only the sunniest city in British Columbia but also one of the most desirable places to live and work in the province. As the commercial and transport center of southeastern British Columbia (Kootenays) there is regular passenger jet service to Vancouver and Calgary.


Established as a railway center in the late 1800's, it is still an important hub for Canadian and international rail traffic. Cranbrook is home to the distinguished Canadian Rail Museum, also known as Trains Deluxe. The museum has National Historic Designation from the Federal Government. It displays meticulously restored vintage passenger trains and even the concurrent rail hotel architecture, representing decades of rail travel from the late 19th century to 1936.

Set between the Purcell Mountains to the west and the Rockies to the east, the city sits on an expansive sunny section of the Columbia River valley. The quaint downtown, full of restored heritage buildings and steeped in history, is loaded with interesting shops, restaurants and cafes. The heritage ghost town of Fort Steele in the Rocky Mountain foothills is a fascinating and important historic site just 16 km away.

Nature lovers will enjoy Elizabeth Lake Wildlife Sanctuary just south of town. The marshland is an important stop for migratory birds and also home to other wildlife, including moose and elk. The Kootenay Trout Hatchery rears 3 million trout that are used to stock lakes throughout the province. Jimsmith Lake Provincial Park, Moyie Lake Provincial Park and Norbury Lake Provincial Park are all near the city. Hikers and mountain bikers can explore numerous trails in either of the stunning glaciated mountain ranges that lie to the west or east of the city.

Cranbrook is a golfer's paradise, with 4 courses including the championship Cranbrook Golf Club. Family oriented Kimberly ski area is the closest ski hill, while a bit further away, Fernie Alpine Resort serves up world-class powder and challenging terrain.

Take a short drive and soak in the mineral rich Fairmont Hot Springs or Lussier Hot Springs.
Cranbrook Accommodations
Cranbrook Things to Do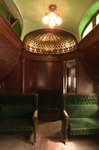 This large collection of restored luxurious trains is of national significance and represents the finest in railway heritage from the golden age of trains - it takes time to visit.