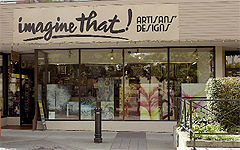 In 1994 a group of 12 artists in the Cowichan Valley on Vancouver Island met to discuss the need for a permanent showcase for selling their artwork beyond the usual venues of craft fairs and exhibitions. Though the initial group changed, a core group of 9 opened their first tiny storefront in downtown Duncan in August of that year. They called themselves IMAGINE THAT! ARTISANS' DESIGNS. They are a Registered Co-operative.

August 2022 marked the beginning of the 29th year in business for this very successful artist-run store. All work is juried and is of very high quality, with price ranges for even the smallest budget. The Members are proud of their long record supporting local Cowichan artists and other artists from Vancouver Island. Mid way between Victoria and Nanaimo, their great location is at the heart of the Cowichan Valley in historic downtown Duncan. IMAGINE THAT! is a pleasant place to turn off the TransCanada and have an artistic "refuelling" stop. Look for the red brick City Hall. We're across the square.

Imagine that! is proudly Canadian, with works made all over Vancouver Island, as well as on some of the adjacent smaller islands. The work of 65-some professional artisans and artists is featured.

Each day, you will meet one of our working artists helping to operate the shop and make it the success it is. Come in and say hello.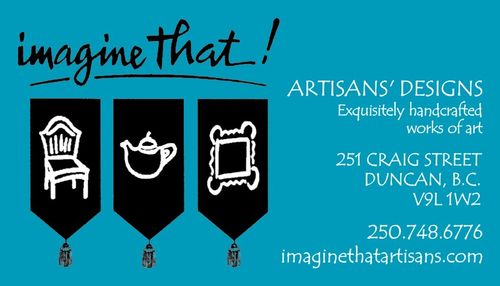 Store Hours

Tuesday through Friday, 11 am to 4 pm

Saturday, 10 am to 3 pm

Catherine Fraser and Cowichan Artisans

August 26 - September 30, 2022

The Cowichan Artisans are a group of professional Vancouver Island artisans who work full-time at their craft. Catherine Fraser is joined in this showcase by these group members: Tyler Hayes, Laurel Hibbert, Cathi Jefferson, Jennifer Lawson, John Lore, Wilma Millette, Margit Nellemann, Travis Rankin, Bev Robertson, and Caroline Storie.






Garry Whitaker: Intricate Wooden Bowls

August 26 - September 30, 2022

"I am a self-employed contractor, building custom homes for over 35 years in the Cowichan Valley. Now semi-retired I started making bowls in the last two years, concentrating on segmented bowls which contain hundred of pieces of wood glued together. The variety and shape of the bowls and patterns are endless. The wood comes in many colours from local sources, as well as around the world. The colours are the true colours of the wood. I use a food safe finish that enhances the wood, no staining is done."