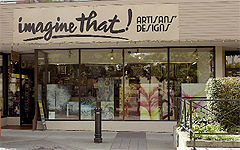 In 1994 a group of 12 artists in the Cowichan Valley on Vancouver Island met to discuss the need for a permanent showcase for selling their artwork beyond the usual venues of craft fairs and exhibitions. Though the initial group changed, a core group of 9 opened their first tiny storefront in downtown Duncan in August of that year. They called themselves IMAGINE THAT! ARTISANS' DESIGNS. They are a Registered Co-operative.

August 2019 marked the beginning of the 26th year in business for this very successful artist-run store. All work is juried and is of very high quality, with price ranges for even the smallest budget. The Members are justifiably proud of their long record supporting local Cowichan artists and other artists from Vancouver Island.

Mid way between VICTORIA and NANAIMO, their great location is at the heart of the Cowichan Valley in historic downtown Duncan. IMAGINE THAT! is a pleasant place to turn off the TransCanada and have an artistic "refuelling" stop. Look for the red brick City Hall. We're across the square.

Imagine that! is proudly Canadian, with works made in the Cowichan Valley, Chemainus, Ladysmith, Nanaimo, Victoria, as well as on some of the adjacent smaller islands.

Imagine That! Artisans' Designs features the work of 70-some professional artisans and artists.

Each day, you will meet one of our working artists helping to operate the shop and make it the success it is. Come in and say hello.

Every month the displays change in both store front windows. These windows are available for artists to rent and are booked well in advance.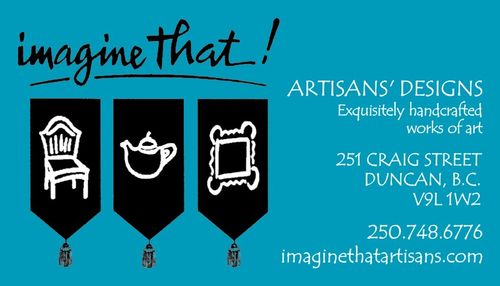 Store Hours

Monday through Friday: 10:00 am to 5:00 pm

Saturday 10:00 am to 4:00 pm

Closed Sunday


Featured from October 25 through November 29, 2019

Expressive Colour: Christine Reimer

Josie Bennett Cowan: A Retrospective
Expressive Colour: Christine Reimer

Christine Reimer is an established British Columbia artist whose professional career spans 40 years. She has a BFA in Visual Arts and a Diploma in Education (Art) from the University of Victoria. While Reimer has embraced a wide variety of genres, her best-known works are vibrantly coloured, stylized landscapes of coastal and interior BC.


Josie Bennett Cowan: A Retrospective

Originally from Surrey, England Josie called Cowichan Bay, BC home since moving here in 1990. Her work as an artist was highly regarded in the Cowichan Valley, and was featured at Imagine That! for a number of years. She participated in a number of arts groups, including Saanich Pen Arts, Cherry Point Water Colour Group, Maple Bay Painters, Cowichan Valley Arts Council, and the Chemainus Sketch Group.

Unfortunately, Josie lost a hard-fought battle with cancer and died on April 19, 2017 at the age of 84.

This exhibition of her work is an opportunity to look back at selected works from her career.