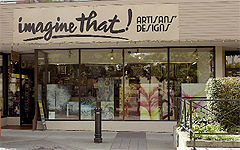 In 1994 a group of 12 artists in the Cowichan Valley on Vancouver Island met to discuss the need for a permanent showcase for selling their artwork beyond the usual venues of craft fairs and exhibitions. Though the initial group changed, a core group of 9 opened their first tiny storefront in downtown Duncan in August of that year. They called themselves IMAGINE THAT! ARTISANS' DESIGNS. They are a Registered Co-operative.

August 2021 marked the beginning of the 28th year in business for this very successful artist-run store. All work is juried and is of very high quality, with price ranges for even the smallest budget. The Members are proud of their long record supporting local Cowichan artists and other artists from Vancouver Island. Mid way between Victoria and Nanaimo, their great location is at the heart of the Cowichan Valley in historic downtown Duncan. IMAGINE THAT! is a pleasant place to turn off the TransCanada and have an artistic "refuelling" stop. Look for the red brick City Hall. We're across the square.

Imagine that! is proudly Canadian, with works made all over Vancouver Island, as well as on some of the adjacent smaller islands. The work of 65-some professional artisans and artists is featured.

Each day, you will meet one of our working artists helping to operate the shop and make it the success it is. Come in and say hello.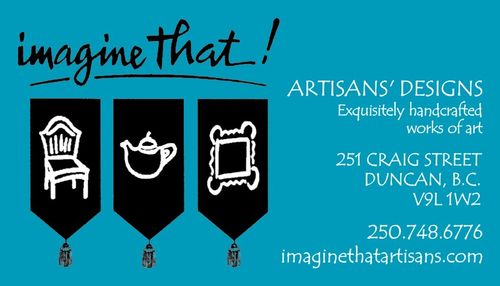 Store Hours

Tuesday through Friday, 11 am to 4 pm

Saturday, 10 am to 3 pm

Magnificent Wooden Boxes:
Robert Andrews

April 29 - May 27, 2022

Robert Andrews creates beautiful hand-crafted boxes from selected hardwoods found on Mayne Island. His boxes are finished in a variety of ways: a smooth velvety touch on the exterior, a superb use of live edge features, or a special colour enhancement. From the tiniest of boxes which might hold one precious piece to larger boxes which could corral all of your electronic devices, his boxes are a treasure.









Laurel Hibbert: So Much Joy

April 29 - May 27, 2022

I spent my childhood as the last of five children, in almost complete freedom and joy. I believe these carefree days allowed me to develop an imagination that has carried me through life. My heart is tied forever to little houses, strong women and their daily tasks and the sheer vitality of children. I hope that my work can lift the spirits of those who see them.