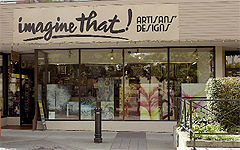 In 1994 a group of 12 artists in the Cowichan Valley on Vancouver Island met to discuss the need for a permanent showcase for selling their artwork beyond the usual venues of craft fairs and exhibitions. Though the initial group changed, a core group of 9 opened their first tiny storefront in downtown Duncan in August of that year. They called themselves IMAGINE THAT! ARTISANS' DESIGNS. They are a Registered Co-operative.

August 2021 marked the beginning of the 28th year in business for this very successful artist-run store. All work is juried and is of very high quality, with price ranges for even the smallest budget. The Members are proud of their long record supporting local Cowichan artists and other artists from Vancouver Island. Mid way between Victoria and Nanaimo, their great location is at the heart of the Cowichan Valley in historic downtown Duncan. IMAGINE THAT! is a pleasant place to turn off the TransCanada and have an artistic "refuelling" stop. Look for the red brick City Hall. We're across the square.

Imagine that! is proudly Canadian, with works made all over Vancouver Island, as well as on some of the adjacent smaller islands. The work of 65-some professional artisans and artists is featured.

Each day, you will meet one of our working artists helping to operate the shop and make it the success it is. Come in and say hello.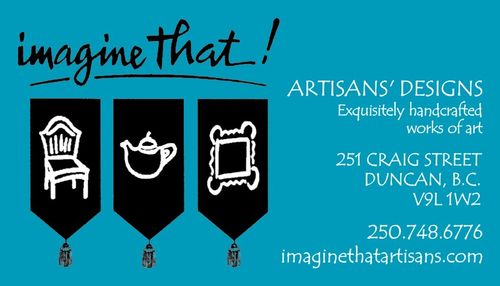 Store Hours

Tuesday through Friday, 11 am to 4 pm

Saturday, 10 am to 3 pm

Michael Dean: Island Impressions

May 27 - June 30, 2022

Artist Michael Dean captures the history and spirit of Vancouver Island in his realistic impressions of working coastal vessels, forests and beach scenes. Using both watercolours and oils, Michael's paintings convey a strong sense of three-dimensional light-filled space, and are known for their finely crafted details.










William Reynolds: Glass Fusion

May 27 - June 30, 2022

William studied at the Ontario College of Art and Ryerson University before moving west where he began working in stained glass. He expanded into warm glasswork, and by heating and layering artisan glass he achieves a third dimension to his art, amplifying and reflecting light, bring life to the subject. Every hand-crafted piece is unique, and most are suitable for indoor or outdoor display.