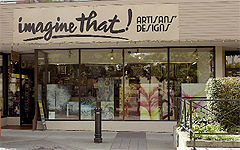 In 1994 a group of 12 artists in the Cowichan Valley on Vancouver Island met to discuss the need for a permanent showcase for selling their artwork beyond the usual venues of craft fairs and exhibitions. Though the initial group changed, a core group of 9 opened their first tiny storefront in downtown Duncan in August of that year. They called themselves IMAGINE THAT! ARTISANS' DESIGNS. They are a Registered Co-operative.

August 2019 marked the beginning of the 26th year in business for this very successful artist-run store. All work is juried and is of very high quality, with price ranges for even the smallest budget. The Members are justifiably proud of their long record supporting local Cowichan artists and other artists from Vancouver Island.

Mid way between VICTORIA and NANAIMO, their great location is at the heart of the Cowichan Valley in historic downtown Duncan. IMAGINE THAT! is a pleasant place to turn off the TransCanada and have an artistic "refuelling" stop. Look for the red brick City Hall. We're across the square.

Imagine that! is proudly Canadian, with works made in the Cowichan Valley, Chemainus, Ladysmith, Nanaimo, Victoria, as well as on some of the adjacent smaller islands.

Imagine That! Artisans' Designs features the work of 70-some professional artisans and artists.

Each day, you will meet one of our working artists helping to operate the shop and make it the success it is. Come in and say hello.

Every month the displays change in both store front windows. These windows are available for artists to rent and are booked well in advance.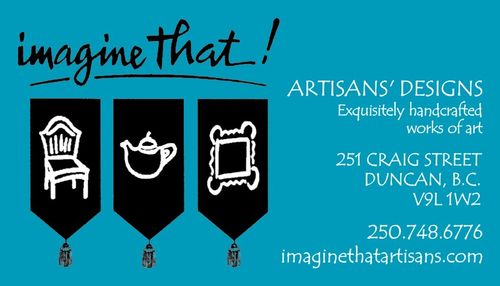 Store Hours

As of June 1, 2020:

Tuesday through Friday, 11 am to 4 pm

Saturday, 10 am to 2 pm


Featured in our window display from June 26 through July 31, 2020


Jennifer Lawson: Watercolours

What is it that gives old homes and tangled gardens such character? What makes us fall in love with them? It's that indefinable essence Jennifer Lawson captures in her watercolour paintings.

Her 1863 log house studio is the perfect place from which to paint Mt. Tzouhalem, the Cowichan River, or an old milk jug overflowing with sweet peas. Fresh air and old linens, riotous country gardens, Victorian houses; these are the things she has loved with her paintbrush for over 40 years.

Her paintings, limited edition prints, and cards evoke a timeless, treasured world, from her birthplace in Yorkshire to India, from Bermuda to the Garry Oak meadows of Vancouver Island.



Comforts of Home: Katie Daniel

When she was seven years old, two important events influenced Katie's creative development. Santa brought her a tiny hand-crank sewing machine, and a kindly neighbour taught her to crochet. Now, over 60 years later, she marries these influences into the creation of colourful and durable crocheted rag rugs made of cloth strips. Her repertoire of work now includes baskets, placemats, trivets, even snuggly beds for pets. Her love for fabric also includes sewing aprons with flare to cheer every home chef.