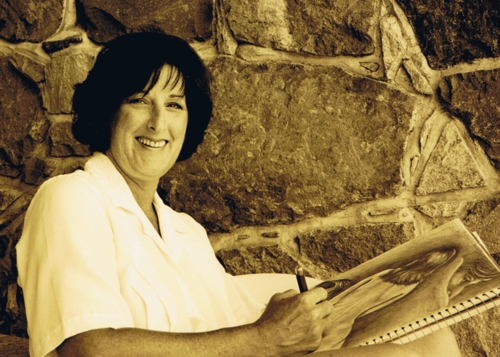 Norma is a Federation of Canadian Artists award winning West Coast artist. Her art often reflects meaning and emotion in her perspectives of West Coast images, people, portraiture, and pure visualization. Her studio gallery is surrounded by a woodland garden overlooking Bings Creek and Mt. Tzouhalem. Originals, prints and cards in watercolour, acrylic, 3 Dimension, and clay are available for viewing and purchase. You can always view her new works on her frequently updated website. She welcomes visitors to her studio. Simply phone to arrange a time.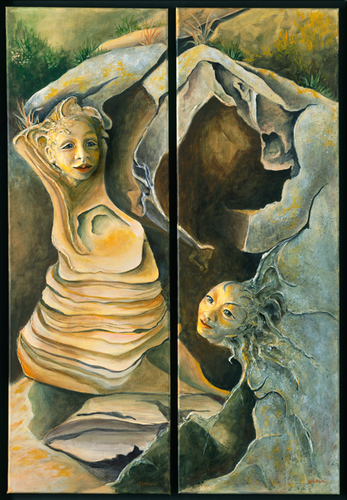 " Emerging". Sandstone Cave Series...Images while sailing the Gulf Islands BC reflect the three aspects of human nature. Winner of an "Honorable Mention Award" from the Federation of Canadian Artists. An "Emerge Art" piece combining sculpting with painting.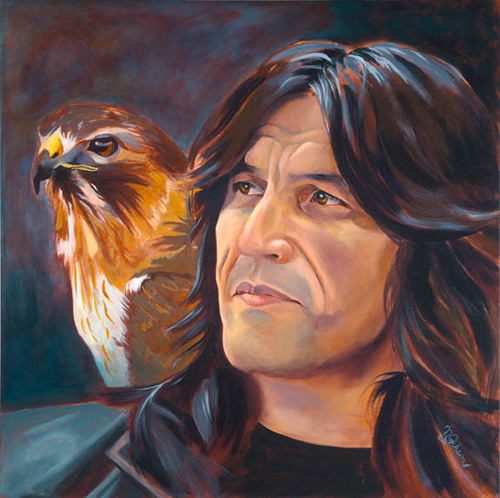 " The Messenger". Harold C. Joe, is the Aboriginal Film Maker who produced the documentary on the homeless
called, "Broken Down". Harold and the Red Tailed Hawk are one and the same. In the native spiritual tradition, the hawk represents a "messenger" .   Harold told me how The Red Tailed Hawk has a powerful and personal meaning to him .    As he was speaking I saw that Harold himself was also the Hawk or "messenger" bringing his peoples stories to life in film. I couldn't paint Harold without painting the hawk. This piece has been on display in the Federation Gallery on Granville Island, Vancouver, BC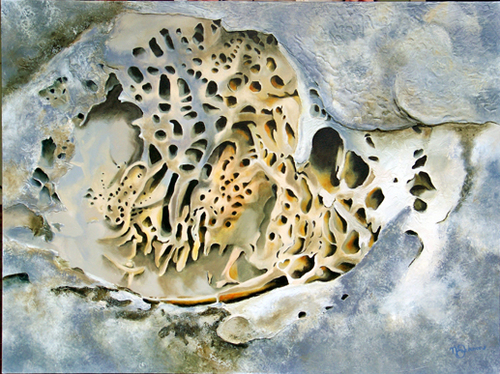 " Nature's Mandala". Sandstone structures on the West Coast are the result of nature's storms. As the Winds blow, granules of sand carve the most beautiful structural images. This sculpturereminded me of a Mandala, intricately carved by an invisible hand.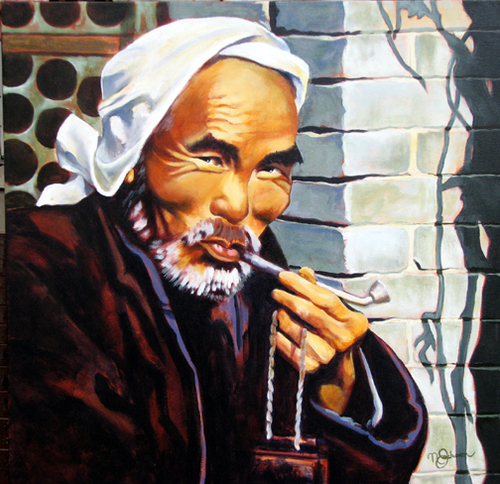 " Simple Pleasures". This image was seen in a small village near Xian China in 1983. Virtually every elderly man in the Village had a pipe permanently attached.