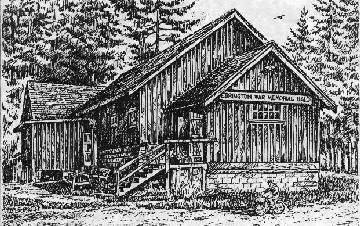 Built as a memorial to those who died in World War I, the Errington War Memorial Hall opened its doors on March 22nd, 1922. It is maintained by a non-profit society made up of volunteers who sponsor cultural, social and recreational activities for the community.

The Hall is located in Errington at 1390 Errington Road, approximately 6km southwest of Parksville on central Vancouver Island, British Columbia, Canada. For a map and directions to the Hall
The Preschool was formed in 1974 by several concerned local residents to provide rural kids with contact with others. Originally held upstairs in the main hall, in 1977 the preschool moved into its newly constructed home in the basement.

The Preschool is run by the Errington Preschool Parents Society. The group joined the Vancouver Island Cooperative Preschool Association (V.I.C.P.A.) in 1993 and has maintained its membership ever since. They hire a fully qualified instructor and offer morning classes for 3 and 4 year old children. Parents cooperate by their weekly participation, helping the instructor, doing chores and assisting in fundraising events.