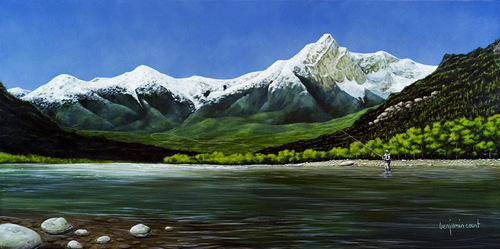 Benjamin Caunt is a self taught artist born in in Victoria, British Columbia on October 2,1967. His youth spent in British Columbia and Alberta has had a great impact on his art. The outdoors were always a part of growing up and this is reflected in his subject matter.
Since 2002 he has steadily built up his portfolio and faithful following of collectors and outdoor enthusiasts. In 2008 his piece entitled "Risky Business" was included in the 2008 Ducks Unlimited Artist Portfolio. A total of 2008 signed limited edition prints were produced, the proceeds from which go towards water conservation in Canada.Benjamin has spent significant time outside of Canada and much of his art revolves around outdoor adventures experienced in places such as Hawaii and Mexico. He has logged hundreds of hours underwater observing reef systems and the behavior of the fauna there. Bright colors and exotic shapes dominate his works from these locales.

Back home in Canada, Benjamin spends much of his time travelling throughout the west in search of inspiration. Whether it is hiking a ridge seen from afar or spending hours fishing a small section of a mountain stream, he is constantly absorbing his environment and meditating on compositions to best express his unique view of this unparalleled wilderness.