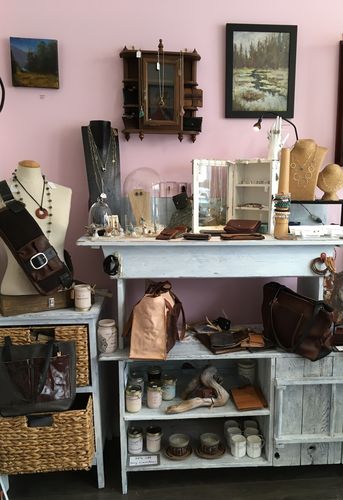 Locally Made Luxuries in Fort Langley

The Fort Finery features fine art, sterling silver jewellery, small batch hand crafted perfumes, soy candles, and curious things, all created locally by B.C. artists and makers.

The Fort Finery is the new home of Anita Bisset creator of the Juliet 925 brand of sterling silver jewellery. Anita, originally from Langley has been working and living in Vancouver and selling her creations in multiple stores in Vancouver and at select crafts shows. After taking part in the Cranberry Festival 2015 and Christmas Bloom Market, Anita rediscovered Langley and fell in love with the idea of working, living, and selling out of the same space. Anita has met many extremely talented artists and makers along the way who didn't have representation outside Vancouver and now can provide a small space to showcase their handmade luxuries.

Because Anita is an artist/jeweller she can provide the knowledge about the process it takes to create each of the artists pieces in The Fort Finery. Opening just in time for the Cranberry Festival and the holidays, The Fort Finery Located at #8 – 23230 Billy Brown Rd. the Flatiron Building in Bedford Landing, joins these other established businesses – The Pencil Box Studio, Susan Galick Fine Art, Judy Nygren, and Floralista flower shop.