British Columbia Travel Guide

The unofficial BC Travel & Tourism Guide

Gibson is situated only five kilometers the vehicle ferry terminal that connects visitors traveling from Vancouver (British Columbia's largest city). The coastal route by vehicle or ferry will set visitors up for a remote, quiet shore side town with one of the most uniques settings. The town faces the pacific ocean and looks directly out to the coasts famous Howe Sound (photographed by thousands of professional photographers from around the world). To the north, Gibsons is backed by Mount Elphinstone. By water to the south, pleasure cruisers with encounter the Strait of Georgia. With all the majestic settings, recreation is abound!

Gibsons experiences moderate coastal climate year-round, perfect for outdoor recreational activities. The town center accommodates visitors with a range of restaurants, luxury spa escapes, cozy cabins, and artists' studios who work showcases a number of mediums. One location in particular brought significant television fame to Gibsons. The CBC television program The Beachcombers, was shot at Molly's Reach. The walkway that runs out from Molly's is also popular with locals and visitors -Gibsons Heritage Walk and its working harbour. Plan to take time to make this relaxed walk and discover the wharf, gazebo for a shot brake, float planes, passing kayakers, day-trippers setting out by boat and the occasional visit by sealife - seals, otters, and many of the oceans small critters. The sea walk will introduce visitors to the west coast lifestyle, Gibsons commercials harbour activities and plenty of ways to explore the coast, tours and charters!
The enthusiasts looking for live entertainment, arts, craft and local markets will not be disappointed. The Heritage Theatre hosts many activities and performances. It is not surprising, either, that such a beautiful setting inspires so many local artists of various talents. Art lovers who wish to meet the artist can set out on the Purple Banner Self-Guided Tours for a first hand encounter and a peak at their latest pieces.

Population: 3,900+

Highlights:
Gibsons Heritage Walk
Molly's Reach
Fabulous Beaches
Purple Banner Self-Guided Tours - artist studios
Heritage Theatre
Gibsons Landing Jazz Festival - June
Gibsons Landing Fibre Arts Festival - August
International Outrigger Canoe Iron Race - July
Sea Cavalcade - July
Elphinstone Pioneer Museum
Soames Hill
Winegarden Park
Inglis Trail

History:
Many coastal First Nations frequented the Sunshine Coastal waters for thousands of years but the most significant group to the Gibsons area were the Chekwelps of Squamish First Nations people journeyed to their summer village at nearby Armours Beach. Most tribes traveled to sources of food along the coast, due mostly to salmon migration and weather. The coastal cedar trees were perfect for creating hunting materials, shelter and deep canoes.

White settlers did not arrive to the area until around the time Captain George Vancouver, in the late 1970's. This area provided protective harbours all along the coast. Logs indicated Gower Point to the west was a point of access, but there wasn't anyone reported at Gibsons until a freak misdirection during a storm (in his hand-built sloop Swamp Angel) lead retired lieutenant George Gibson and his two sons for shelter at this small harbour in the late 1880's. He immediately claimed one over hundred and sixty acres for himself to develope - from Gibsons Landing outward. When the CPR was set out its first trip across Canada, his wife and six daughters journeyed to join them from Ontario. George and his wife were noted as being extremely intelligent and hard-working, taking advantage of local springs for gardening and the great fishing prospects. Fishing /canneries, agriculture (also assisted by Finnish settlers in 1905), and logging in part, are still contributors to the local economy.

Climate:
Summer average 19 degrees Celsius
Winter average 3 degrees Celsius


For more information please visit www.gibsonsbc.ca
Gibsons Accommodations
Gibsons Things to Do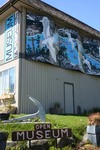 Discover the Historical Connection Between Land, Sea & Human Experience. The Sunshine Coast Museum and Archives presents the history of the Sunshine Coast and its inhabitants.