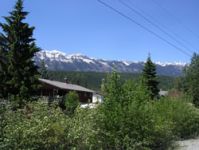 Golden, a small town north of Radium Hot Springs, is surrounded by six national parks, which offer great recreational sites, perfect start to an adventurous vacation. Hop aboard a jet boat river tour, fly tandem with a paragliding guide, try on a pair of cross-country skis, watch a real bull rider, or experience the ultimate mountain adventures year round. With a solid four seasons, Golden has mastered the art of wilderness retreats packed with entertaining tours, which began as early as 1899, when Swiss mountain guides were brought by the Canadian Pacific Railway into assist in mountaineering expeditions. The untouched, pristine plateaus, glaciers and peaks drew in hundreds of Europeans and eastern Canadians and still do today! This also explains the Chalet Architecture of a few of the hillside homes.
Population: 4,200+
Highlights:
Rafter J Frontier Village, showcasing native and cowboy artifacts
Golden Museum and railway artifacts
Aprés Ski entertainment after a day on the slopes or cross-country skiing (during the winter primarily), bars, fine restaurants and dining on the mountain top
Window shopping and walking tour through heritage homes.
Banff National Park in neighboring Alberta
Jasper Park
Kootenay Park
Mount Revelstoke National Park
Yoho Glacier - Glacier Tours
Bugaboo Parks
Champion Golf Course
Golden Sounds of Summer free open-air entertainment July & August
Summer Farmer's markets
Rocky Mountain Trench Birdwatching near the wetland systems.
Horseback Trail Riding - Beaverfoot and the Blaeberry Valleys.
Jet Boat Tour
Moonraker Trails Mountain Biking
Gondola Ride to mountain top vistas from Dogtooth Range
Helicopter ride over the Rocky Mountains
Dawn Mountain Nordic Trail System
Mount 7 provides world class paragliding and hang gliding
History:
The region surrounding the Rocky Mountains was home for centuries to The Secwepemc (Shuswap) First Nations tribes. Rich in family and spiritual culture their attire was adorned with bird feathers and bright colours. They made good use of the rivers for fishing, the forests for materials, animals for meat and furs and the land for berries all collected and harvested throughout the year for winter food storage.

By the late 1800's Golden started out as a cache and survey depot with the European settlements that struck up around them Golden soon prospered. Tourism has, and still is, a big part of Golden's economy, which began in 1899 when Swiss mountain guides were employed by the CPR to helped visitors from all over the world on their mountaineering expeditions.
Climate:
Summer average 23 degrees Celsius
Winter average -7 degrees Celsius
Golden Accommodations
Golden Things to Do