British Columbia Travel Guide

The unofficial BC Travel & Tourism Guide

Harrison Mills is a picturesque farming area at the junction of the Harrison and Fraser Rivers in southwestern British Columbia.


According to Ella Pretty, the 90 year-old daughter-in-law of the area's historically celebrated timber baron, Charles Fenn Pretty, "little has changed in this region during the last 100 years."

What she means is that the green waters of the Harrison River still meander past the small settlement and meet the mighty Fraser; the towering snow capped coast mountains are set against the sky; hundreds of thousands of salmon make their way through the shallow waters under the watchful eyes of hundreds of eagles that gather each winter to feast on the spawning fish; the rich soils are still farmed; timber is still brought downstream from Harrison Lake on the spring freshet; and the old buildings still stand on the riverside, built on pilings above the floodplain.

Kilby Historic Site is situated on the river and offers a fascinating glimpse into the region's past. It is named for the historic farm that was built on the floodplain and required elevated buildings, connected with boardwalks, to stay clear of the river waters. Today, the focal point is the general store, formally a temperance hotel. Historically, it accessed the railway via a ramp to its second floor. The buildings now operate as a living museum, with gallery and stores. The Kilby experience is enriched with costumed interpreters, friendly farm animals and an orchard playground.

Kilby Provincial Park is walking distance away and offers 22 vehicle accessed campsites and easy access to the Harrison and Fraser Rivers. It offers pit toilets, running water, boat launch, and biking and walking along the dykes.

Harrison Mills Country House and Lodge is set in a historic building just south of Kilby and operates as a full service fishing lodge in season and a quaint B&B year-round.

Nearby attractions within easy reach of Harrison Mills include the famous spa at Harrison Hot Springs, Bridal Veil Falls, Sasquatch Provincial Park, several golf courses, as well as Hemlock Valley ski area. Nearby Morris Slough is renowned not only for salmon, but for its giant sturgeon, which can sometimes be seen breaching in the manner of whales.
Harrison Mills Accommodations
Harrison Mills Things to Do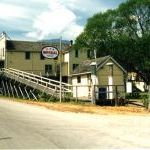 Located near the junction of the Harrison and Fraser Rivers, the Kilby Store and Farm stands as the only reminder of the once thriving community of Harrison Mills.