British Columbia Travel Guide

The unofficial BC Travel & Tourism Guide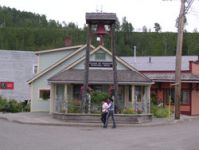 Priding itself as the historic Heartland of northwest British Columbia, Hazelton was part of many of the province's "firsts" in its early development years. There are also three parts to this area - Hazelton, New Hazelton and South Hazelton, all of which are worth exploring. The legacy here in Hazelton is well preserved in the friendly township and historical sites. Guided and self-guided tours take visitors back in time to Hazelton and back even further still to First Nations sites that seem worlds away.


The intimate and rare combination of wildlife, history, First Nations culture, sightseeing, unique attractions, riverboat tours, fishing excursions, big rivers, and outdoor recreation make for a wonderful mixture found only in Hazelton.

The Hazelton area draws in visitors on their journey on Highway 16 while traveling between Prince George and Prince Rupert as a "must see" stop. Plan your trip while traveling around or through Northern BC.

The Hazelton Communities short outline:
Two municipalities - the Village of Hazelton and District of New Hazeltont.
Three unincorporated settlements - South Hazelton, Two Mile and the Kispiox Valley.
Four First Nations' Villages - Gitanmaax, Hagwilget, Glen Vowell and Kispiox.

Arrival and transportation options from surrounding regions including; air into neighbouring town of Smithers (with direct ground transport available), Coach (bus), highway route 16 for automobile travelers, and via rail (train).

Population: 360+

Highlights:
Hagwilget Suspension Bridge
'Ksan Native Village and Museum
Pioneer Day - August

History:
The First Nations of the northwest coast 'Ksan existed in the Hazelton region for over 7,000 years (the Gitksan and Wetsuwet'en band / people resided in this area specifically where the Skeena River and the Bulkley River meet).

Eventually in 1866, white settlers arrived in Hazelton near the upriver terminus until 1913. Established for a fleet of sternwheelers, which plied the wild rapids of the Skeena bring supplies to mines, farmlands and nearby settlements, this area sprung up as one of the earliest in Northern BC and one that survived until the railway found its way there - then everything changed. Today, it thrives on the tourism and unique friendly community that continues to keep up the 'old Hazelton' feel.

Climate:
Summer average 25+ degrees Celsius
Winter average -10 degrees Celsius
Hazelton Accommodations
Hazelton Things to Do