British Columbia Travel Guide

The unofficial BC Travel & Tourism Guide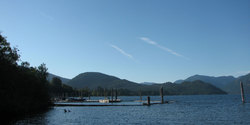 Set on a warm and hospitable section of shoreline on the emerald waters of Cowichan Lake, the community of Honeymoon Bay retains a peaceful, rural and small town ambience. Deciduous trees grow in abundance and offer holiday-makers a green oasis for RV camping. The lake is extremely popular for all forms of boating pleasure, from kayaking to water skiing and windsurfing.


Nature lovers will enjoy the wildflowers from April to June at Honeymoon Bay Ecological Reserve. There is also a 9-hole golf course.

Honeymoon Bay is ideally situated along the Pacific Marine Circle Tour, which takes leads from Victoria along the west coast to Port Renfrew then inland to Cowichan Lake and back to Victoria along the east side of the island. Area attractions include the 20 km of trails along Cowichan River and the 750-hectare Cowichan River Provincial Park. A gravel road leads around the lake and through several small communities, including Youbou, Mesachie Lake and the town of Cowichan Lake.

Gordon Bay Provincial Park is just up the road and offers spectacular lake-side camping. Further west, Carmanah-Walbran Provincial Parks preserve magnificent stands of old-growth rain forest, and Nitinat Lake draws windsurfers and kite-boarders. There are ample opportunities for fishing in one of the numerous lakes and rivers in the area, or head to the open west coast on a charter boat from the Indian village at the head of Nitinat Lake.
Honeymoon Bay Accommodations
Honeymoon Bay Things to Do