British Columbia Travel Guide

The unofficial BC Travel & Tourism Guide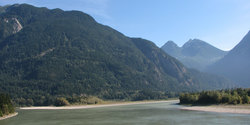 Whether you and your party are interested in sightseeing from above or cycling the valley way, the roads are wide and the skies endless over Hope. The wonderful wilderness lifestyle of BC thrives here with fantastic fishing, kayaking, birdwatching, gliding, golfing, panning, rockhounding, winter skiing, and icefishing.


For the whole family, visitors will find a light selection of galleries for the arts enthusiast, family / adult dining, and several types of indoor recreation to enjoy year round. There are often local events at businesses, cafes, and the parks that include local talent or music.

Enjoy the camping and hiking opportunities through out the Fraser Valley!

Population: 7,000

Highlights:
Forestry Tour
Gold panning
Helicopter Tours
Rock Hounding
Dan Sharers Aquatic Center
Hope Arena & Curling Rink
Galleries & Libraries

History:
The first European explore to arrive in the Hope area was Simon Fraser arrived after his journey through the Canyon in 1808. By 1846, the Oregon Boundary Treaty signed, establishing 49th Parallel as the Canada/U.S. Border. The first ferry crossing was made at Spuzzum in 1858 and the Lower Fraser Valley population tripled. Later in 1863, the last ferry crossing at Spuzzum occurred as the bridge system was in place and the valley traffic opened up. Then finally in 1929 Hope was incorporated as Village.

Climate:
Summer average 22 degrees Celsius
Winter average -2 degrees Celsius
Hope Accommodations
Hope Things to Do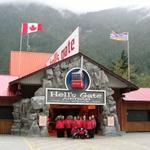 Aerial trams will give you a birds' eye view of this historic landmark where 200 million gallons of water per minute thunder through this 33 metre wide passage.