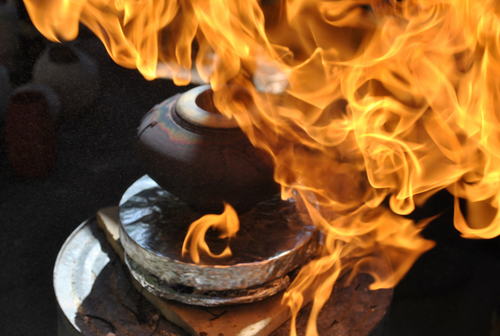 Our passion is clay, and we share it--something we've done since 1979. Our mainstay is functional stoneware, and we love knowing that it's used for special occasions as well as adding function and beauty to the daily lives of our collectors.

We're located just outside of Ladysmith on beautiful, inspirational Vancouver Island. Our showroom and studio are both open to visitors, and most of our work is sold directly to our customers (giving us the pleasure of meeting the folks who love and collect our work). We also continue to sell our work at The Pottery Store in Chemainus, a store we established and when we first came to the island in 1992.
One of Vic's favourite techniques, "mocha diffusion" involves the use of a tobacco tea process. These fairly rare pieces rate among the most highly collected vessels he makes.

Mocha Diffusion was first developed in England in the 1700's. It was a common and quick decorative technique applied to low-fired earthenware. The original recipe, along with the factory that used it, disappeared. What is known is that it used tobacco, turpentine and urine to create tree-like patterns.

Our mocha is fired at stoneware temperatures. Yes, we still use tobacco, but no turpentine and definitely no urine.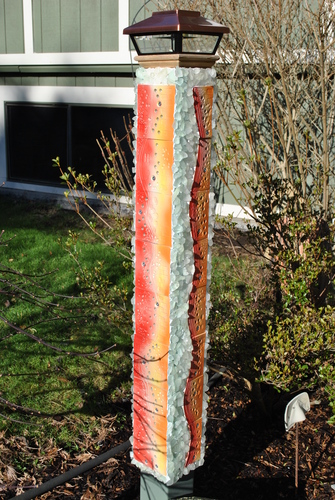 Jo has recently become more and more interested in sculptural garden pieces. They light the garden in the evening, and are designed to add colour, often attracting birds and bees to surrounding plants during the day.

The work involves 4 sides of carved, designed, decorated hand-made tiles with layers of underglaze and glaze treatments, and is further decorated with river stones, glass or clay pellets. Some of the posts include quality solar light caps, others have a sculptural top to finish them.

Jo's unique sculptural tiles with their additional textures and mixed media materials have also been turned into tile murals... work she particularly enjoys.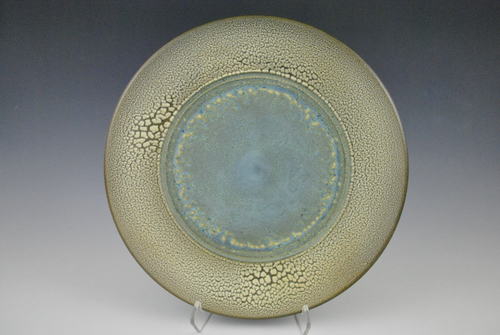 Over the years, Vic's devoted a tremendous amount of attention to developing glazes with texture and depth. Many of the platters, vessels, vases, mugs and teapots undergo numerous layers of engobe and glaze applications, often resulting in multiple firings.

The platters are both functional and decorative. Vic is also willing to make commemorative platters for some collectors, enabling them to celebrate special occasions as well as creating family heirloom pieces.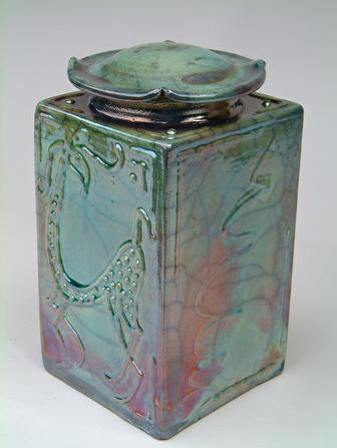 While the functional line perfectly showcases Jo and Vic's combined talents, both of them also continue to develop their individual skills, creating distinctly unique works of art for the home, office or garden.

They particularly enjoy creating pieces together. The picture shown here is of a box-shaped vase by Jo with lid and decoration by Vic.

JoVic Pottery also creates special funerary urns and both potters are honored to discuss the special needs of bereaved family members.