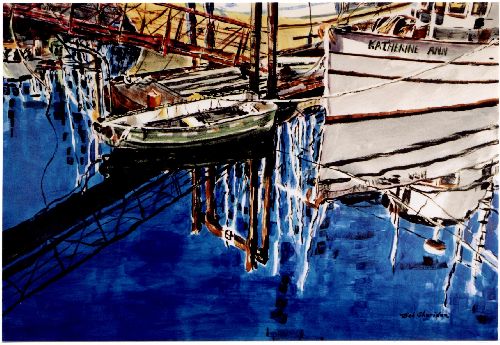 A BRIEF BIOGRAPHY OF BOB SIVERTSON

Bob was born in Kamloops B.C. and has spent most of his life in B.C with many side trips to other parts of the world. He retired from his career as a chartered accountant in public practice in l995. During the later years of his career he worked in Campbell River and built a home for himself on Quadra Island His love of coastal British Columbia and the vitality of the colours of ocean and forest are evident in his artwork.

As a young man he travelled the world and worked in different countries. Some years were spent in the South Pacific which profoundly affected his vision of the world because of the intensity of colours in nature and the lushness of the landscapes. He learned how the artist Paul Gauguin had been inspired by the vibrant colours of nature and he, himself, was inspired to seek out and paint these scenes.

He is basically self-taught as an artist and has experimented in various media over the years, but, having discovered the marvellous colour potential of acrylics, now uses that medium exclusively.

Bob is a member of the Federation of Canadian Artists, Oceanside Community Arts Council, Nanaimo Arts Council and is a member of the Art 10 artists cooperative in Nanaimo.

His paintings have appeared in galleries in Campbell River, Courtenay, Port Alberni, Qualicum Beach, Parksville, Vancouver and Nanaimo and in private collctions in the United Kingdom, the United States and Canada.

Bob and his wife, Vera, live in French Creek and are both very involved in the interests of arts and culture in the Oceanside community.