British Columbia Travel Guide

The unofficial BC Travel & Tourism Guide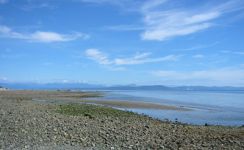 Lighthouse Country is chain of small seaside communities which present the chance to stop over night during an island journey, take a travel break for sightseeing, delicious oysters, small pub fare or even gift shop. The island highway "Oceanside Scenic Tour" leads visitors by automobile right through the heart of each village and the ocean scenery on the east side. Photographic stops are plenty. Same for something to eat. Several creeks and rivers are passed over by bridge and run directly into the ocean passages.


Arts studios are marked by roadside as well as parks and trails. Several little galleries are open regular work hours to feature local artists and First Nation work. Beaches are generally open year round to visitors and there are multiple access points.

Various sea life and many birds can be viewed from road side. Be sure to take a camera and keep a look out for the island beauty - the bald eagle.

Several campgrounds, cabins, resorts, Inns and bed & breakfasts are around each community. Enjoy a comfortable stay, ocean views, and hearty breakfasts to get you on your way - explore the chain of villages and their individual charm throughout Lighthouse Country.

Highlights:
Qualicum Bay
Horne Lake - caving tours
Bowser
Deep Bay

Climate:
Summer average 18 degrees Celsius
Winter average 4 degrees Celsius
Lighthouse Country Accommodations
Lighthouse Country Things to Do